BD New Delhi mission observes birth anniversary of Sheikh Kamal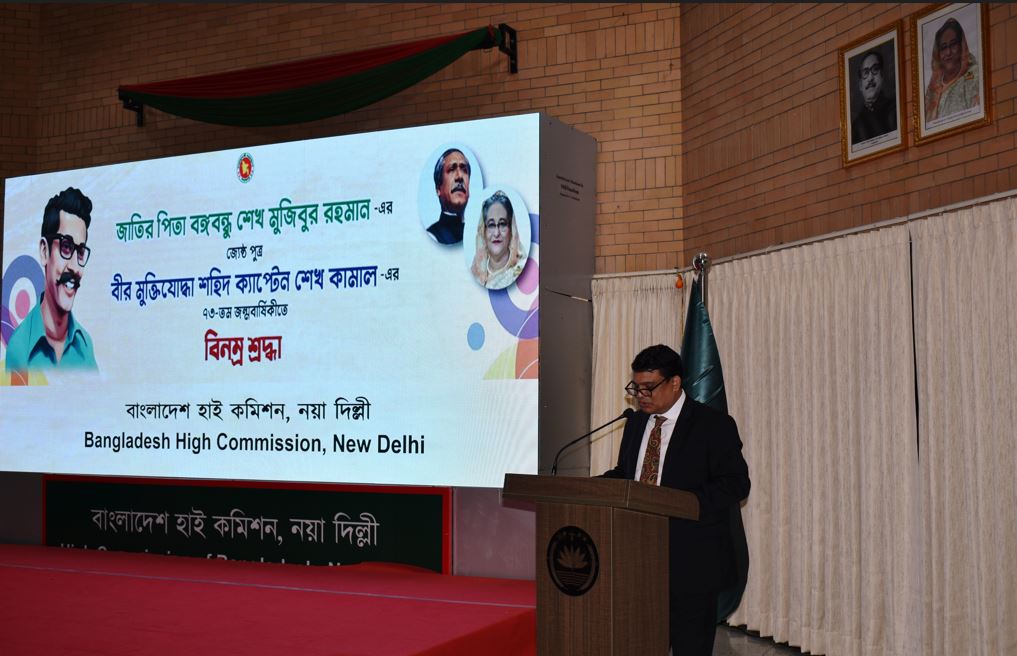 NEW DELHI, Aug 8, 2022 (BSS) - Bangladesh High Commission in New Delhi today observed the 73rd birth anniversary of Father of the Nation Bangabandhu Sheikh Mujibur Rahman's eldest son Sheikh Kamal in a befitting manner.
To mark the day, the mission organised a discussion on the life and works of Sheikh Kamal, a valiant freedom fighter, sports organizer and a cultural personality, at the Bangabandhu Conference Hall of the mission.
Earlier, the officers and employees led by Acting High Commissioner Nural Islam placed floral wreaths at the portraits of Father of the Nation Bangabandhu Sheikh Mujibur Rahman and Sheikh Kamal at the Chancery premises.
Messages from President Md. Abdul Hamid and Prime Minister Sheikh Hasina marking the occasion were read out. Shaban Mahmud, Minister (Press) and Rashedul Amin, Minister (Economy) read out the messages from President and Prime Minister respectively.
Taking part in the discussion, Nural Islam paid rich tribute to the memory of Sheikh Kamal when he recalled his role during the 1971 War of Liberation as the ADC of Commander-in-Chief General MAG Osmani.
Nural said the young generation should know about the life and works of Sheikh Kamal, who played a major role in promoting sports and culture in Bangladesh.
Minister (Consular) of the high commission Selim Md. Jahangir also spoke on the occasion while Md. Zakaria Bin Amjad, Second Secretary conducted the meeting.
A documentary on the life of Captain Sheikh Kamal also screened on the occasion. Later, a special Munajat was offered seeking divine blessing of Sheikh Kamal and his family.