Speaker for raising voice at Westminster on behalf of climate vulnerable countries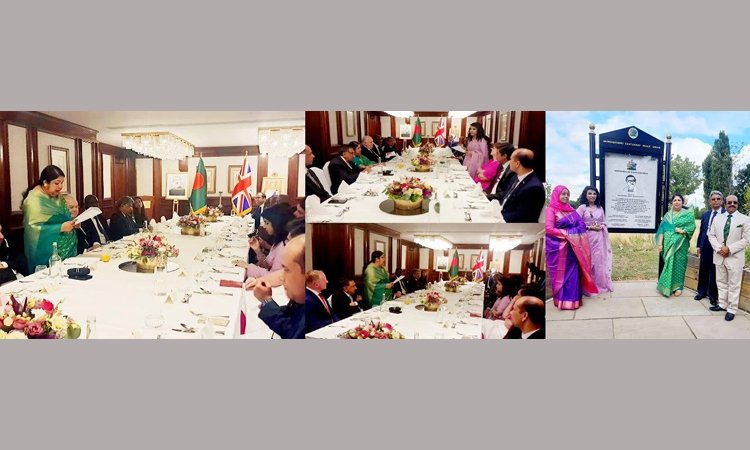 DHAKA, August 5, 2022 (BSS) - Jatiya Sangsad Speaker Dr Shirin Sharmin
Chaudhury today called upon the British lawmakers to raise their voice more
strongly in the British Parliament in terms of providing financial aid to the
climate change vulnerable countries including Bangladesh.
"Along with the lawmakers, strong role must have to play at the G-20 summit
for reducing global warming and harmful carbon emission in order to avoid
havoc related to climate change," she said.
The Speaker made this call while addressing as the chief guest in an
interactive dialogue styled "Bangladesh Rising" with the British lawmakers in
London.
Dr Chaudhury also has underscored the need for increasing institutional
cooperation between the lawmakers of Bangladesh and Britain, especially
strengthening parliament democracy and good governance, agenda 2030, climate
change, women empowerment and resolving the Rohingya crisis.

Bangladesh High Commission in London organised the function.
Calling the British parliamentarian to play their role globally as 'vanguard'
for sustainable resolve the Rohingya crisis, Speaker said: "Bangladesh has
been providing shelter and safety to 1.1 million Rohingyas who were forcibly
displaced from Myanmar, for long five years. The only solution of the
Rohingya crisis is to return them to their homeland Myanmar in safely."
Expressing profound respect to the memory of Father of the Nation Bangabandhu
Sheikh Mujibur Rahman on the month of mourning, Dr Shirin Sharmin said the
then British Prime Minister and lawmakers of both conservative and labour
parties had close relationship with Bangabandhu which have encourage
diversified bilateral activities between Bangladesh and the United Kingdom
(UK).
Participating in the Bangladesh Rising programme, the Speaker exchanged her
views with the British lawmakers about the financial progress achievement of
Bangladesh in the last one decade under the valiant and dynamic leadership of
Prime Minister Sheikh Hasina.
Chaired and moderated by Bangladesh High Commissioner in the UK Sayeeda Muna
Tasneem, the programmes was also attended by vice-chairman Lord Sheikh Of
Cornhill, British publisher, entrepreneur and philanthropist Lord Evans of
Watford, a Labour and Co-operative politician Baroness Thornton, Baroness
Paula Manjila Uddin, the first Bengali member of the British House of Lords,
Former Labour/Co-operative MP for Liverpool, West Derby Stephen Twigg, Samuel
Peter Tarry, high profile British government officials and joint secretary of
the parliament secretariat M A Kamal Billah, among others, participated in
the function.