Investment projects undertaken to combat climate-change need to be made child-friendly: Indira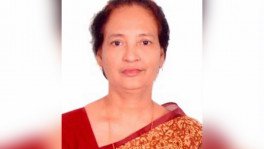 DHAKA, July 5, 2022 (BSS) - State Minister for Women and Children Affairs Fazilatunnesa Indira today called for investment-friendly projects in the fight against climate change and environmental pollution, as well as sustainable rehabilitation programmes for children affected by the natural disasters around the world.

"We now need sincere commitment and urgent action to reduce carbon emissions rapidly in order to build a sustainable world for children," she said.

She was speaking at a virtual conference on "Asia Pacific Regional Virtual Conference on Early Childhood Development" organised by Asia Pacific Regional Network for Early Childhood (ARNEC) in Singapore, said a press release here.

ARNEC Board of Directors Chair Dr Sheldon Shaeffer is being presided over the four-day conference with the theme "Young Children in Crisis: Addressing the Impact of the Cavid Pandemic, Climate Change and Environmental Degradation", it added.

UNICEF East Asia Pacific Deputy Regional Directors Jean Knight, UNESCO Asia Pacific Regional Directors Shigeru Ayogi and Cambodian Minister of Education, Dr Hang Chun Naron spoke virtually at the inaugural session.

Indira said the closure of schools and child daycare centers due to the Covid epidemic has hampered the education and development of 1.5 billion children worldwide and 420 million children in South Asia.

"Climate change is putting the lives of children in the Asia-Pacific region at risk... In many countries in South Asia, indoor air pollution is six times higher than the World Health Organization's international standards," she added.

"As a result, children's health risk and high risk of disease are being created due to environmental pollution," she further said.

The four-day conference was attended by ministers from Nepal, Bhutan, Fiji and the Marshall Islands.

Representatives from various countries including UNICEF, UNESCO, World Bank, Asian Development Bank, Harvard University, India, Australia, Indonesia will present articles on early childhood development (ECD), nutrition, education, climate-change and environmental pollution prevention in the conference.