Momen's new book on Bangladesh's successes, potential unveiled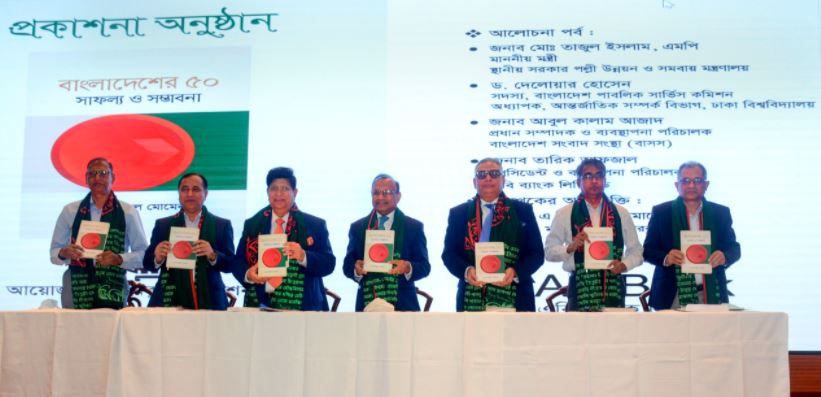 DHAKA, July 4, 2022 (BSS) - Foreign Minister Dr AK Abdul Momen's new book highlighting Bangladesh's success stories in last 50 years as well as its social economic potentials of future was unveiled today.
The book titled "Bangladesher Ponchash: Safollo O Somvabona (50 Years of Bangladesh: Successes and Potentials)", published by Zhumzhumi Prokashon contained 23 write-ups-eighteen articles are written in Bangla while five in English.
LGRD and Cooperatives Minister Md Tazul Islam spoke as the chief guest at the book unveiling ceremony held at Foreign Service Academy in the capital.
Bangladesh Public Service Commission member and Dhaka University Prof Dr Delwar Hossain and President and Managing Director of AB Bank Limited Tarique Afzal, among others, spoke on the occasion.
The foreign minister dedicated the book to his elder brother and former finance minister late AMA Muhith.
Speaking at the occasion, foreign minister Momen encouraged all to keep writing to let future generations know, noting that only this will remain though they will all have to leave from this earth one day.
"Public should know what the current government is doing," Momen said, adding that he compiled the articles, those were published in different newspapers, in the book so that the countrymen would feel proud for the success of their motherlands in the last 50 years.
Diplomacy in the era of Father of the Nation Bangabandhu Sheikh Mujibur Rahman and his daughter Prime Minister Sheikh Hasina, Bangladesh's foreign policy compulsions, constraints and choices; global stability, security and prosperity after Covid-19, Sheikh Hasina's development miracle and an epic saga of an indomitable nation are some of the chapters of the book.
Tazul said the book would encourage people to know that many countries are following Bangladesh's incredible growth as a model.