DU theatre dept stages O'Neill's play 'Iceman Cometh'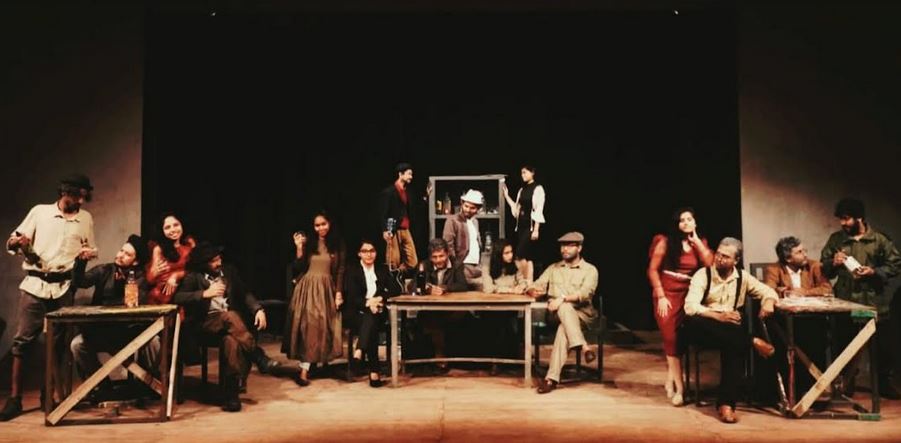 DHAKA, July 4, 2022 (BSS) - Dhaka University's Theatre and Performance Studies Department staged renowned American playwright Eugene O'Neill's realistic play 'The Iceman Cometh' marking the university's 101st founding anniversary.
The play, directed by department's Assistant Professor Tanvir Nahid Khan and performed by third year fifth semester students, was staged each day from July 1 to July 4 at the University's Nat-Mandal auditorium.
In the play, people of different professions, different countries stay in Harry Hope's bar with some unrealistic dreams. Everyone in that bar wants to get out of the failure of their life and start a new life from tomorrow. But that tomorrow does not come to them anymore.

The four-act play ends with the self-confessed revelation of wife murder by salesman Hickey and the suicide of Donna Parritt, who suffers from a patriarchal crisis.
Acting stimulus, stage and light design was done by the department chairman Ashikur Rahman Leon, choreography was done by Amit Chowdhury while Kazi Tamanna Haque Sigma and Ahmed Raufur Rahim prepared costumes of the play.
In the play, S.A Tanvir performed as Joe Mott character, Zadid Imtaiz Ahmad as Harry Hope, Mohiuddin Roni as Larry Slade , Tahia Tasnim Mim as Willie Oban, Mujahidul Islam Rifat as General Piet Wetjoen, Rifat Jahan Shaon as Captain Cecil Lewis, Salman Noor as Jimmy Tomorrow, Joya Maria Costa as Rocky Pioggj, Moumita Sakar as Dona Parritt, Torikul Sarder as Pat McGloin, Rizvee Sultana as Pearl, Debolina Chandra DaibeeMargie, Rifat Karabi as Cora, Ifti Shariar Raian as Chuck Morello, Pran Krishna Banik as Hicky and Mirhazul Islam Shiblee played the role of Hugo in the play.
Besides, Umme Sumaiya Moni, Ahsan Khan planned props, Rudra Sawjal Kabya designed music which was projected by Obaidur Rahman Sohan; Shahabuddin Mia and Ashraful Islam, Monira Munira Mahjabin projected light while Debashish Kumar De designed the poster of the play.
Talking about the play, Director Tanvir Nahid Khan said the play is relevant even in the current situation as people now are motivated to survive in the midst of epidemics, adverse weather conditions, disasters and dreaming of the future.
Ashikur Rahman Leon, Chairman of the department, said, 'The department has been practicing the theory of indigenous, oriental and western drama performances with emphasis on acquiring many axial knowledge about drama in the academic field.
We are organizing this time by presenting western drama performances as part of the curriculum in its continuation.'