Monsoon poem festival enchants Rangpur audience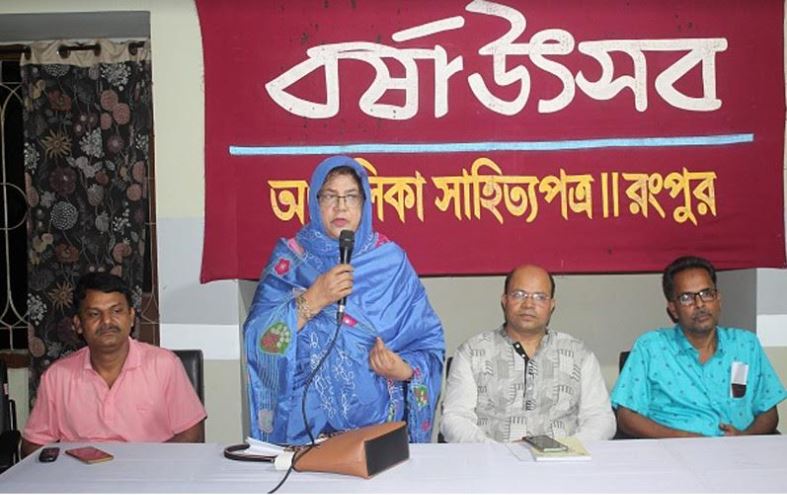 RANGPUR, July 4, 2022 (BSS) - A colourful Monsoon Poem Festival-2022 enchanted a huge audience of all ages at the house of poet Dilruba Shahadat in the city on Sunday night.

'The Anjolika Sahitya Potra', a contemplative literary magazine, organized the festival participated by writers, poets and lyricists belonging to different generations, literary and socio-cultural personalities.

Editor of 'The Anjolika Sahitya Potra' and poet Dilruba Shahadat presided over the event where recitation of poems, self-composed poems and lyrics dedicated to the monsoon season entertained the audience.

Special munajats were offered seeking divine blessings for departed souls of four brilliant persons of Rangpur, writer Matiur Rahman Basunia, former MP Sahanara Begum, poet Tasmin Afroz Nishi and poet Nahid Habib Riva who recently died.

Regional Director of Rangpur Kendra of Bangladesh Betar Dr. Harun-Ar-Rashid attended the festival as the chief guest.

Noted poets Hi Hafiz and Lutfar Rahman Shaju addressed the occasion as guests of honor.

Noted writers and poets SM Abdur Rahman, Hasnine Rabbi, Emad Uddin Ahmed, Shahida Milky, Sawda Khanom Minu, Khalid Saifullah, Selina Akhter Shelly, SM Khalil Babu, Rezaul Karim Jibon, Khondker Naiba Haque, Naima Minu and others recited self-composed poems and rhymes and rendered songs dedicated to the monsoon season.

The chief guest called for nurturing rich components of Bengali literature, culture and heritage to revive lost social values for building a peaceful and prosperous Bangladesh free from drug, corruption, militancy and terrorism.

"Poems are sources of feelings, inspirations, expressions, love, affection, beauty, sadness, agony, hopes, cheers and joys of human beings, society and civilization as a whole," he added.