PM not only ensures women's empowerment but also secures their solvency: Palak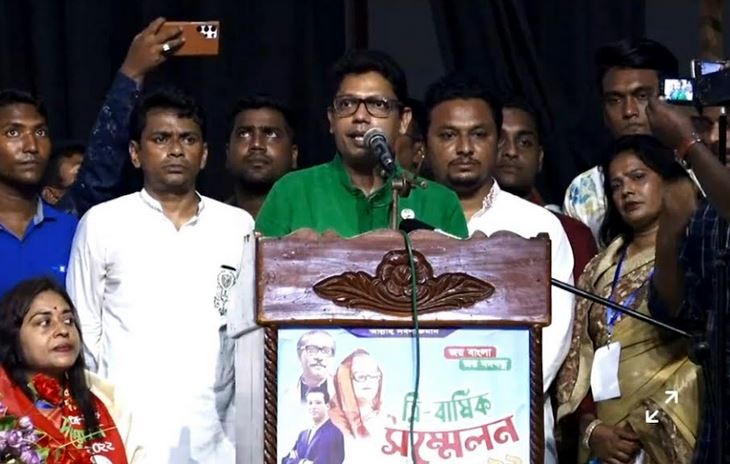 NATORE, July 3, 2022 (BSS) - State Minister for Information and Communication Technology Junaid Ahmed Palak today said that Prime Minister Sheikh Hasina has not only ensured women's empowerment but also secured their financial prosperity.

Palak said this at a tri-annual conference of the district branch of Bangladesh Juba Mahila League, Natore at Anima Chowdhury Auditorium here.
Palak said Prime Minister Sheikh Hasina has made arrangements for direct election of women representatives in every Union Parishad, Upazila Parishad and Zila Parishad so that the elected representatives can play a role in empowering women in those areas.
"She has increased the number of reserved women MPs in the Parliament to 50," he added.
"To ensure the respect, dignity and security of women, the Prime Minister has added the name of the father as well as the name of the mother in all the certificates of children," he further said.
District Awami League President Prof Abdul Quddus MP addressed the conference as the chief guest and District Awami League General Secretary Md Shariful Islam Ramzan, General Secretary of Bangladesh Juba Mahila League Professor Apu Ukil, M Shafiqul Islam Shimul MP from Natore-2 constituency (Natar Sadar and Naldanga), M Shahidul Islam Bakul MP from Natore-1 constituency (Lalpur and Bagatipara) and Ratna Ahmed MP from reserved women's constituency (Natore and Naogaon) spoke at the conference as special guests, among others.

President of Natore District Youth Women's League Anjuman Ara Poppy chaired the meeting.