Matia Chowdhury's book 'Deyal Diye Ghera' reprinted marking her birthday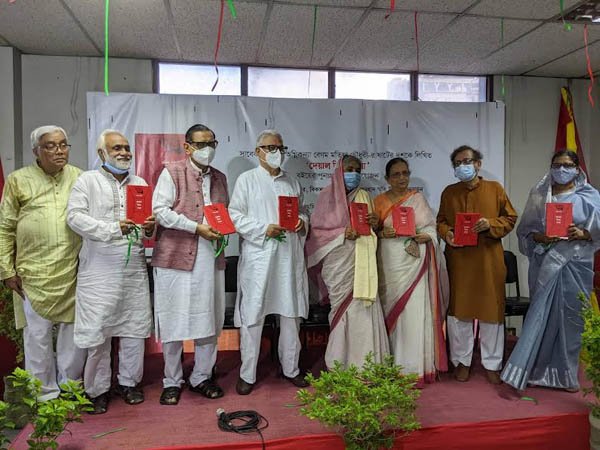 DHAKA, July 2, 2022 (BSS) - A book named 'Deyal Diye Ghera', written by Awami League presidium member Begum Matia Chowdhury has been reprinted marking the birthday of Matia Chowdhury.
She wrote the book about her prison life back in early sixties and the publishing house 'Samaj Bikash Prakashani' of Mani Singh-Farhad Srity Trust reprinted it in a programme on Friday.
With Trust Board Member Dr Magduma Nargis Ratna in the chair, the programme was attended, among others, by Prime Minister's Economic Affairs Adviser Dr Mashiur Rahman as the chief guest.
During the time, President of Workers Party of Bangladesh Rashed Khan Menon, MP, Asaduzzaman Noor, MP, Jatiya Samajtantrik Dal President Hasanul Haq Inu, Education and Human Resources Secretary of Awami League Shamsun Nahar Chapa, Ganatantri Party General Secretary Shahadat Hossain and Mani Singh-Farhad Srity Trust Board Member Abul Kalam Azad discussed about the struggling life of the Begum Matia Chowdhury who has also a nickname 'Ogni Konna' or 'Girl of Fire' for her fiery speeches, adamant attitude and best qualities.