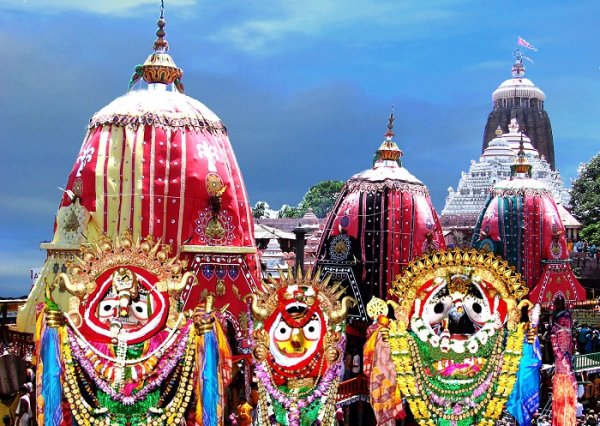 DHAKA, July 1, 2022 (BSS) - Ratha Yatra, the chariot festival of Sri Jagannath Dev which is one of the major festivals of the Hindus, was celebrated today across the country with due religious fervor and enthusiasm.
In observance of the festival, different religious bodies and temple committees drew up various programmes.

The International Society for Krishna Consciousness (ISKON) chalked out a nine-day programme in Dhaka as it will end through Ulto Ratha Yatra (reverse journey) celebration on July 8.
The country's largest Ratha Yatra festival was celebrated at Dhamrai in Manikganj district.
The programmes of the festival began in the morning with rendering of Harisangkirtan, holding of Agnihotra Jagna seeking world peace and people's welfare, recitation of verses from Srimat Bhagabat Geeta, distribution of mohaprosad, discussion, rendition of padaboli kirtan and arati, cultural function, staging of religious drama and screening of religious films.
The programmes of the ISKON at Swamibag in Dhaka started with holding of Agnihotra Jagna seeking divine blessings for world peace and people's welfare this morning.
A discussion was arranged there in the afternoon. Planning Minister MA Mannan joined it as the chief guest while Indian High Commissioner Vikram K Doraiswami attended as the special guest. Mangla Pradip was also lit up later.
Later, a colorful procession was brought out from Swamibagh temple with carrying images and idols of Sri Jagannath Dev, his brother Sri Balaram and sister Srimati Subhadra on three largely build Rathas (chariots).
Then the devotees pulled the ropes of the chariots through Tikatuli, Ittefak intersection, Shapla Chattar, Dainik Bangla, Purana Paltan intersection, National Press Club, High Court crossing, Doel Square, Jagannath Hall, Palashi Crossing and rounded up the Ratha Yatra on the premises of the Dhakeshwari National Temple.
Besides, the Ratha Jatra festival was also celebrated at Ramseeta Mandir at Joikali Mandir Road, at Shankharibazar and Jagannath Jeo Mandir at Tantibazar in old city and other places across the country.

Special security measures were taken marking the festival to avert any untoward incidents.
"The Hindus, Muslims, Buddhists and Christians have been living here from time immemorial in amity and peace," he said while opening a nine-day Ratha Jatra, one of the major festivals of the Hindu community, at the city's Probartak Sangha crorssing.
Hasan, also Awami League joint general secretary, said religion always works for bringing peace and prosperity in the country which eliminates terrorism, extremism and fundamentalism.
He called upon all to avoid fundamentalists who infuse fundamentalism in the country.
Information and Broadcasting Minister Dr Hasan Mahmud said Bangladesh is a country of communal harmony as people of different faiths have been living on this soil in peace from time immemorial.

Our Chattogram Office reports: A-nine day long Ratha Jatra began in Chattogram amidst festivity and fanfare after two years break due Covid-19 pandemic.
International Society for Krishna Consciousness (ISKCON) brought out a huge procession in which chariots of Sree Jagannath (other name of Lord Krishno) were pulled from ISKCON temple to Nandankanon Tulshidam after parading different city thoroughfares.
Information and Broadcasting Minister and Awami League Joint General Secretary Dr Hasan Mahmud addressed as the chief guest the opening ceremony of the nine-day Ratha Jatra at the city's Probartak Sangha crossing.
Thousands of Hindu devotees irrespective of genders and ages including theologians, hermits, hundreds of students from different educational institutions joined the procession in pulling the ropes of chariots witnessed by onlookers and passers-by either sides of city streets.
Indian Assistant High Commissioner in Chattogram Dr Rajib Ranzon attended the inaugural function as the special chief guest.

Commissioner of Chattogram Metropolitan Police (CMP) Saleh Mohammad Tanvir, Deputy Commissioner of Chattogram Mominur Rahman, ISKCON Chattogram district General Secretary Chinmoy Krisna Das and leaders of different religious organizations, professional bodies and public representatives attended the function.
Rathajatra is a journey in a chariot with deities of Jagannath (Vishnu avatar), Balaram, or Balabhadra (his brother), Subhadra (his sister) and Sudarshana Chakra (his weapon) on a ratha, a wooden deula-shaped chariot accompanied by people in colorful procession.
It attracts over a million Hindu pilgrims who join the procession each year in the Indian subcontinent including Bangladesh for long.