Azad urges BSS journalists to apply technical knowledge in work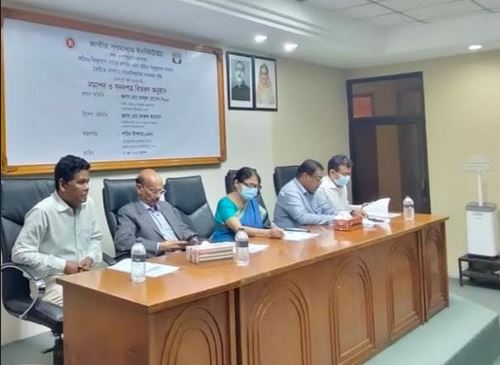 DHAKA, June 27, 2022 (BSS) - Bangladesh Sangbad Sangstha (BSS) Managing Director and Chief Editor Abul Kalam Azad today called upon all the BSS journalists to work sincerely applying technological knowledge.
"You should work sincerely utilizing the knowledge you gathered from the workshop on audio-visual journalism," he said at the concluding ceremony of a five-day workshop at the National Institute of Mass Communication (NIMC) in the city.
The NIMC organized the training programme titled 'Capacity Building Workshop on Audio-Visual News Production for BSS Journalists' from June 23 to 27.
NIMC Director General Shahin Islam presided over the concluding ceremony while its Additional Director General Faizul Haque and Director (training engineering) Md Nazrul Islam spoke at the function, among others.
Azad said that the BSS authorities have a plan to build a 14-story building, which would help the state-run news agency launching a television.
It (BSS) would run television, radio and online version simultaneously like other state-run news agencies in the world, he added.
Noting that the nuisance activities on the newly opened long-cherished Padma Bridge are not simply aimless, the BSS chief asked the journalists to remain alert about such motives.
Later, Azad distributed certificates among the participants. A total of 22 journalists from BSS head-office and different districts took part in the workshop.