Govt is providing healthcare supports to flood victims: Maleque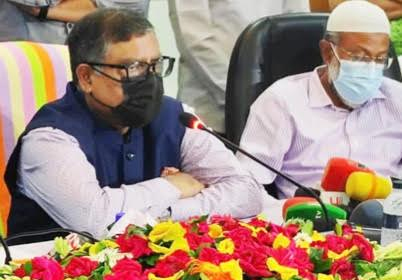 SYLHET, June 27, 2022 (BSS) - Health Minister Zahid Maleque today said the
government is providing all necessary healthcare facilities to the people in
the country's flood-hit regions.
"We have directed physicians, health workers and authorities concerned to
ensure healthcare facilities among the people affected by the ongoing flood,"
he made the directives while visiting three flood-affected northeastern
districts of the country, an official release said.
Three flood-hit districts are-- Sylhet, Sunamganj and Netrokona.
During his visit, the minister talked to flood-hit people of the regions and
distributed relief among them.
After visiting flood affected districts, he attended a view-exchange meeting
with physicians, officials of local administration and leaders and activists
of Awami League (AL).

Secretary of Health Service Division Dr Md Anwar Hossain Hawlader, Professor
Dr Abul Bashar Mohammad Khurshid Alam, President of Bangladesh Medical
College and Hospital Association Mubin Khan and senior officials of different
relevant organisations, among others, were present at the meeting.
The health minister urged all to extend their helping hands to reduce
suffering of the flood-affected people.
After 2004 flooding in Bangladesh, early monsoon flood in northeastern,
northern districts has been considered as the worst one which has badly
affected over 10 districts of Brahmaputra and Meghna basin, flood management
experts said.
Under the directive of Prime Minister Sheikh Hasina, all relevant government
agencies have been working constantly to provide supports with relief
materials including dry food, pure drinking water as well as medical
facilities, Maleque added.
"Our medical teams are working round the clock in the flood-hit areas...We've
directed local medical hospitals to provide prompt supports to the people
with Covid-19 positive cases," he added.
Waterborne diseases are spreading in the flood-hit regions of Bangladesh as
floodwater started receding.
"Many people are suffering from diarrhoea, skin diseases, dysentery, cholera
and other waterborne diseases," Directorate General of Health Services (DGHS)
sources said.

In the past 24 hours, a total of 452 people have been affected by diarrhoea
in four flood hit divisions -- Sylhet, Rangpur, Chattagram and Mymensingh --
while 53 people have also suffered from skin diseases, a press release issued
by the DGHS said on Sunday.
To provide healthcare supports to the flood affected regions of the country,
as many as 2,050 medical teams have been working since beginning of the
flood, it added.