BD New Delhi mission joins Padma bridge opening ceremony through BTV live streaming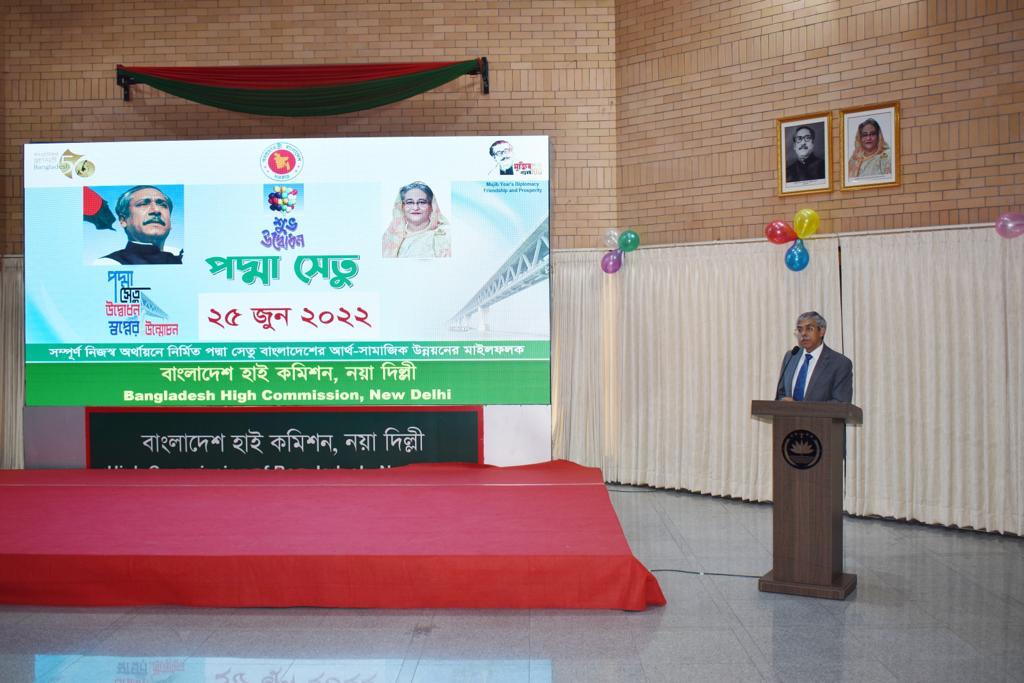 NEW DELHI, June 25, 2022 (BSS) – Despite living abroad, the family members of officers, employees of Bangladesh mission and other government organisations here today became the part of a history as they joined the grand opening of the long-cherished "Padma Bridge" through BTV live streaming.
Prime Minister Sheikh Hasina today formally inaugurated the country's longest bridge over the river Padma, the world's one of the mightiest rive in terms of its unpredictable nature.
To keep the historic occasion memorable, Bangladesh New Delhi mission organised a function this morning on the mission premises for the family members of the mission's officials and employees and some invited guests so that they could witness the function.
It was a great opportunity for the community here to celebrate the historic occasion with tens of thousands of people of Bangladesh who gathered at the bridge's Mawya and Ganjira points from across the country to be a part of the history.
Prior to the opening ceremony of the bridge, which was telecast by Bangladesh Television (BTV), Bangladesh high commissioner to India Muhammad Imran gave a brief speech on the background of construction of the dream bridge and it's social and economic impact in Bangladesh.
Before that, messages from President Mohammad Abdul Hamid and Prime Minister Sheikh Hasina were read out by Deputy High Commissioner Nural Islam and Minister (Consular) Selim Md. Jahangir respectively.
Earlier in the morning, High Commissioner Imran flanked by officers and employees of the mission paid glowing tribute to Father of the Nation Bangabandhu Sheikh Mujibur Rahman by placing wreaths at his portrait.

Later, they joined the opening ceremony through live streaming of Bangladesh Television
(BTV). A festive mood was prevailing on the mission premises during the grand opening of the dream "setu" (bridge), which considered as the national pride of Bangladesh.
The programme was followed by lunch. Sweet and some Bangladeshi deserts were also served marking the historic opening of "Padma Bridge".
Besides, Bangladesh Deputy High Commission in Kolkata also organised a separate programme on the occasion when a documentary on the Padma Bridge was screened.
A discussion was held. Former VC of Rabindra Bharati University Prof. Dr Pabitra Sarkar Journalist Snehasish Sur, Film Director Gautam Ghosh and Deputy High Commissioner Andaleeb Elias took part in the discussion.
Later, they joined the opening ceremony of the dream bridge through live streaming of Bangladesh Television (BTV).