Fighter jets display aerial show marking Padma Bridge's opening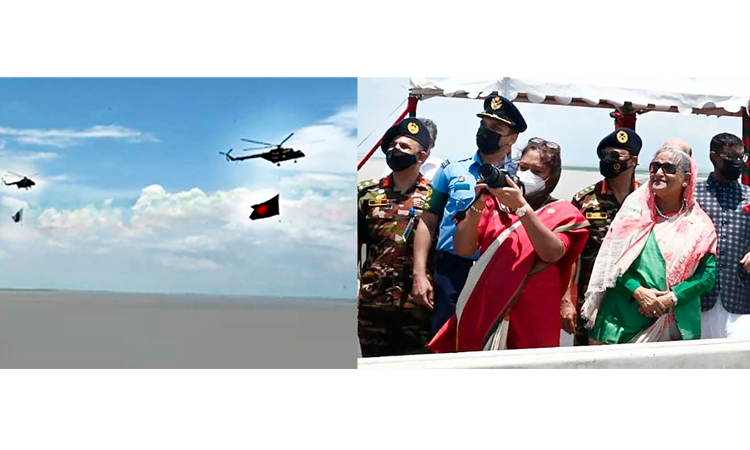 MAWA, Munshiganj, June 25, 2022 (BSS) – Bangladesh air force (BAF) fighter jets and helicopters today staged a spectacular show turning the skyline above the Padma Bridge into a virtual rainbow to mark its grand opening.

Soon after Prime Minister Sheikh Hasina opened the country's longest multipurpose bridge, 28 aircraft of BAF comprising MiG-29 and F-7 fighter jets, C-130 and L-410 transport planes and Grob-120 TP training aircraft and five helicopters demonstrated a fly past in different formations by trailing colorful smokes.

At the directive of BAF chief Air Chief Marshal Sheikh Abdul Hannan, Group Captain Md Maniruzzaman Hawlader led the fly past.

The five helicopters of MI-17 carried the National Flag and banners imprinted with portraits of Father of the Nation Bangabandhu Sheikh Mujibur Rahman, Prime Minister Sheikh Hasina and picture of just opened Padma Bridge and 'Joy Bangla' slogan.

Besides, a Bell-212 helicopter dropped leaflets for guests who joined the inaugural ceremony of the bridge.

An aerobatic show by seven K-W and a MIG-29 marked the conclusion of the air show in line with the celebration mood of the event.

The premier was seen showing her companions the artistic BAF display while her daughter Saima Wazed Putul was capturing different photographs with a camera in a cheerful mood.


The premier unveiled a plaque at Mawa end in Munsiganj and entered the mega structure by paying toll herself at 11.47am, which has emerged in the globe as a signature of her extra courageous leadership.

Jatiya Sangsad Speaker Dr Shirin Sharmin Chaudhury, Road Transport and Bridges Minister Obaidul Quader and Cabinet Secretary Khandker Anwarul Islam, among others, accompanied the premier at the midpoint of the bridge while thousands of people on both sides of the river witnessed with applause the show.

Soon after the Prime Minister crossed the bridge after the BAF air show, the eagerly awaiting people were allowed to walk along the bridge for the first as well as the last time, since the structure is prohibited for the walking people beyond the viaduct point due to security reasons.

The people are allowed to walk up to the viaduct of the bridge without reaching the main structure.