Sheikh Hasina's name to remain etched in people's hearts: Quader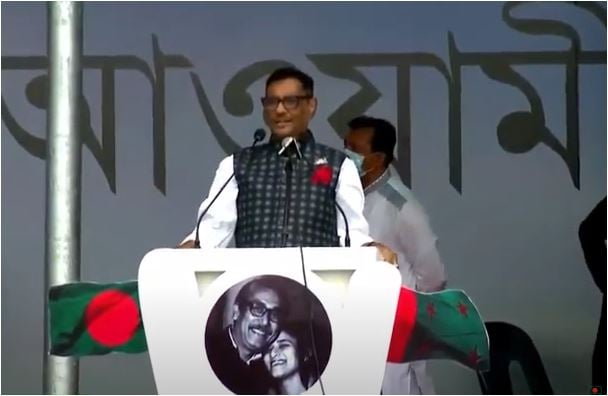 DHAKA, June 25, 2022 (BSS) - Road Transport and Bridges Minister Obaidul
Quader today said the name of Prime Sheikh Hasina will remain inscribed
forever in the hearts of the country's people as she has built the long-
cherished Padma Bridge with Bangladesh's own funding.

He said this while addressing a public rally, arranged by the ruling Awami
League, at Shibchar Katalbari in Madaripur, marking the opening of Padma
Bridge.

AL President and Prime Minister Sheikh Hasina addressed the rally as the
chief guest. Prime Minister's daughter Saima Wazed Putul and top AL leaders
were present.

Quader, also the AL general secretary, said the Prime Minister did not name
the Padma Bridge after her, but the passion and love, which she has instilled
in the hearts of the countrymen, will remain alive forever.

"...as long as the Padma Bridge exists, the people will remember
Bangabandhu's daughter Sheikh Hasina. Her name will be etched in your
(people's) hearts forever," he added.

The bridge minister said many people, who were living on the banks of Padma,
left their ancestral homes responding to the call of Bangabandhu's daughter,
Sheikh Hasina.

"I am grateful to them. You have accepted this sacrifice by looking at the
face of Sheikh Hasina. The leader gave us courage when there were various
intrigues around us," he said.

Quader said she had told us that "We have to move forward as we have no scope
to go back. I have taken the oath not to bow down to anyone. I must build the
Padma Bridge. This is my pledge".

The Prime Minister has taken her promise and that is why thousands of people
from the region have gathered here today.

About the BNP's reaction to the opening of the Padma Bridge, he said all the
people of the country are happy today but black clouds clenched the faces of
BNP leaders, as Prime Minister Sheikh Hasina has built the Padma Bridge
overcoming all the plots and obstacles.

Quader said BNP secretary general Mirza Fakhrul Islam Alamgir is upset as he
is suffering from chest pain due to jealousy.


Recalling the past plight of the people living on the banks of the Padma
River, he said many sons were compelled to wait on the banks of the river
with their sick mothers but the ferry did not come and later they had to
return home with their mother's bodies.

The bridge minister said many raised questions about the toll of Padma Bridge
terming it as high, but the people of this area know better how much they
need the bridge.

"People, who do not know the matter, will not be able to understand the
importance of the Padma Bridge," he added.

Chief Whip Noor-E-Alam Chowdhury also addressed the rally moderated by AL
organising secretary Mirza Azam and its publicity and publication secretary
Dr Abdus Sobhan Golap.