Rajshahi people celebrate Padma Bridge opening with enthusiasm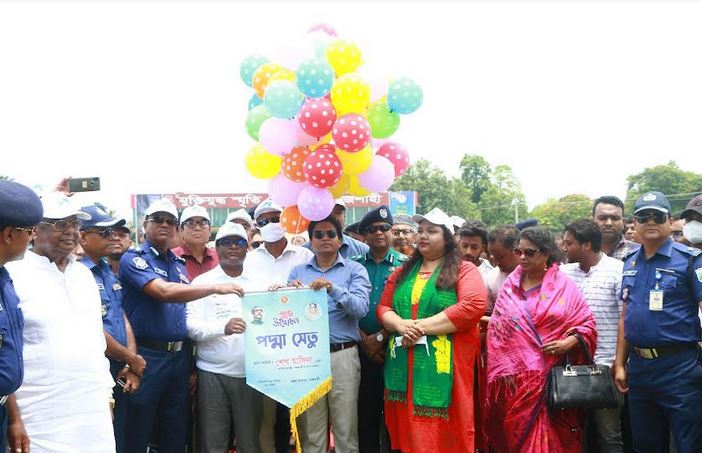 RAJSHAHI, June 25, 2022 (BSS)- Cross-section of people have celebrated the
opening ceremony of Padma Bridge with enthusiasm, lauding the heroic role of
Prime Minister Sheikh Hasina to materialize the dream of Padma Bridge into
reality.

Scores of rallies and jubilant processions from public and private offices
and educational institutions, including law enforcing agencies, marched to
the Freedom Fighters Memorial Stadium carrying banners welcoming the prime
minister.
District administration had arranged a ceremony at the stadium to mark the
formal opening of the Padma Bridge and the attending people in large watched
the prime minister's historic inaugural ceremony of Padma Bridge on a giant
television screen.
Commissioner of Rajshahi division GSM Zafarullah, Commissioner of Rajshahi
Metropolitan Police Abu Kalam Siddique and Deputy Commissioner of Rajshahi
Abdul Jalil, among many other dignitaries, were present at the ceremony.
They also released balloon and festoons in the sky to mark the historic
opening of the Padma Bridge by Prime Minister Sheikh Hasina.
Reports of celebrating the historic opening were also reached here from all
eight districts and 67 upazilas in Rajshahi division.