Programmes taken to celebrate Padma Bridge opening in Khulna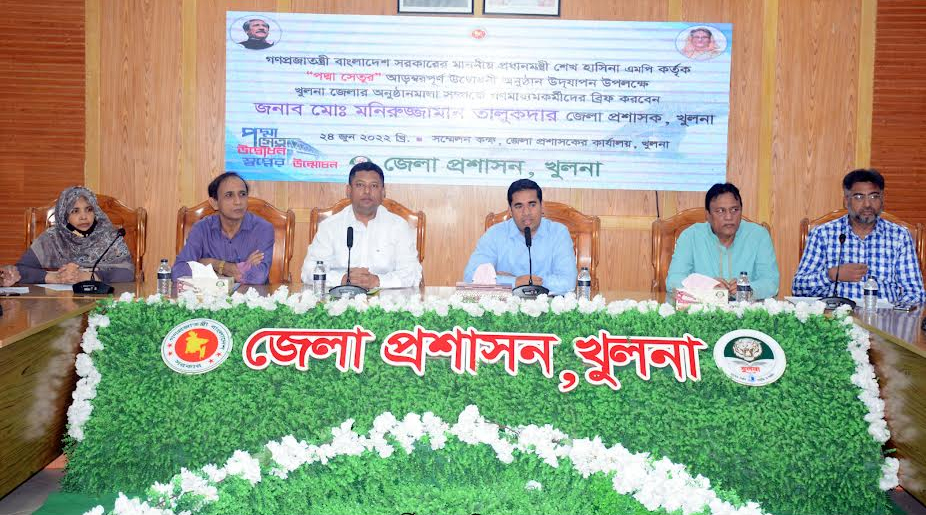 KHULNA, June 24, 2025 (BSS) - Khulna district administration has taken huge
spectacular programmes to celebrate the Padma Bridge opening ceremony in a
festive manner and make the day as a memorial one.
Deputy Commissioner Md Moniruzzaman Talukder disclosed the programme schedule
at a press briefing held at the DC's conference room today.
The programmes include discussion meeting, colourful cultural music show,
lesser show and "Atoshbaji".
"Inauguration ceremony (June 25) will exhibit through large screen from
Khulna Stadium," he said, adding that Khulna city has been wearing a festive
look ahead of the Padma Bridge opening.
City's main streets, important places, road islands, government, semi
government, autonomous bodies and others establishments have been decorated
and illuminated while over hundred of gates and city branding festoons have
been set up ahead of the Padma Bridge inauguration.
On the occasion, a video documentary on "Padma Bridge" will be showed at
Shaheed Hadis Park, Shibbari intersection, Daulatpur Bazar and different
important streets, he added.
Additional Deputy Commissioner (General) S M Sadekur Rahman, Khulna Press
Club President S M Nazrul Islam, former president S M Zahid Hossain, Khulna
Journalists Union President (KUJ) Faruk Ahmed, among others, addressed at the
briefing.
Meanwhile, Sammilita Nagorik Samaj, a combined citizen forum, today at a
press conference at Khulna Press Club highly appreciated the visionary
leadership of Prime Minister Sheikh Hasina.
Convener of the Forum and Khulna Lawyers Association President Advocate
Saiful Islam expressed satisfaction for the much-awaited Padma Bridge, saying
Khulna people will celebrate the day tomorrow with much enthusiasm.