Flood situation starts improving in B'putra basin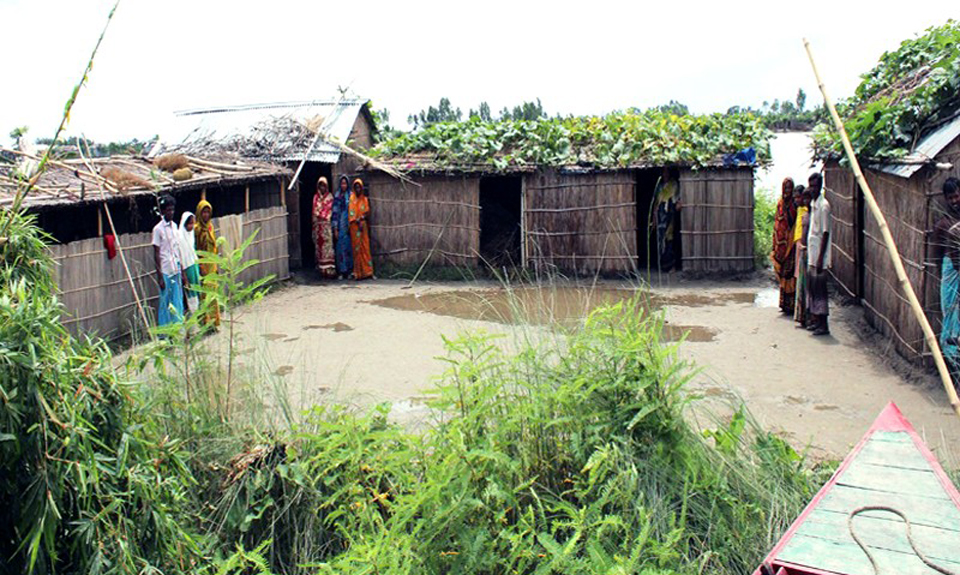 RANGPUR, June 23, 2022 (BSS) - Flood situation started improving following falls in water levels of major rivers at all monitoring points amid almost no rainfalls in the Brahmaputra basin during the past 24 hours till 9am today.

Officials of Bangladesh Water Development Board (WDB) said water level of the Brahmaputra marked sharp falls following reduction in rate of onrushing water from upstream during the period and the trend would continue during the next 24 hours.

No fresh areas and standing crops were inundated as floodwater started receding to improve the situation in Rangpur, Nilphamari, Lalmonirhat and Gaibandha districts during the last 24 hours.
However, flood situation is still remaining mostly stable in Jamalpur, Bogura and Siraganj districts where the situation is expected to start improving soon.

Meanwhile, incidents of sporadic erosion of riverbanks with unstable soil texture were reported from few places alongside the Teesta, Dharla, Brahmaputra and other rivers in Rangpur, Lalmonirhat, Kurigram and Gaibandha during the last few days.

Acting Chief Engineer of BWDB's Rangpur Zone Engineer Muhammad Amirul Haque Bhuiyan said flood situation started improving as the rate of onrushing water from upstream significantly reduced during the last 24 hours in the Brahmaputra basin.

"We are conducting riverside bank protection works on an emergency basis at a few vulnerable points alongside major rivers in Rangpur, Kurigram and Gaibandha districts," Engineer Bhuiyan added.

BWDB officials said the Dharla, Brahmaputra, Jumna and Ghaghot were still flowing above danger marks (DM) at nine points in Kurigram, Gaibandha, Jamalpur, Bogura and Sirajganj at 9 am today.

Water level of the Dudhkumar marked a significant fall by 21cm at Pateshwari in Kurigram during the last 24 hours and was flowing below DM by 30cm there at 9 am today.

Water levels of the Teesta marked falls by 35cm at Dalia and 9cm at Kawnia points during the period and were flowing below their respective DMs by 45cm and 34cm at these points by 9 am today.

Besides, water levels of the Brahmaputra marked sharp falls by 23cm at Noonkhawa, 29cm at Hatia, 20cm at Chilmari and 15cm at Fulchhari points during the last 24 hours.

The Brahmaputra was still flowing above DM by only 5cm at Noonkhawa, 84cm at Hatia and 32cm at Chilmari points in Kurigram and 45cm at Fulchhari point in Gaibandha at 9 am today.

Water levels of the Jamuna marked significant falls by 13cm at Bahadurabad in Jamalpur, 10cm at Sariakandi in Bogura and 8cm at Kazipur and 5cm at Sirajganj points during the last 24 hours.

At 9 am today, the Jamuna was flowing above DM by 44cm at Bahadurabad, 54cm at Sariakandi, 53cm at Kazipur and 45cm at Sirajganj points in the Brahmaputra basin.

The district and upazila administrations have further intensified relief activities in affected areas of flood-hit northern districts to stand beside deluge-hit people and mitigate their sufferings.

District Relief and Rehabilitation Officer (DRRO) of Rangpur Md. Motahar Hossain said distribution of 25 tonnes of rice and Taka one lakh continues among flood-hit people of Gangachara upazila in the district.

Kurigram DRRO Abdul Hye Sarker said deluge situation started improving during the last 24 hours in the district following significant reduction in the rate of onrushing water from upstream amid almost no rainfalls.

"Some 1,52,388 people of 38,097 families in 319 villages of 49 unions under all nine upazilas were marooned in the district," he said, adding that floodwater is receding from most of the affected areas.

The district administration with upazila administrations and public representatives continues distributing 338 tonnes of rice, Taka 16.50 lakh and 1,000 packets of dry foods among flood-hit people of the badly-affected flood-hit district.

Besides, distribution of baby foods worth Taka 18 lakh and fodders of cattle heads worth Taka 17.75 lakh also continues among deluge-hit people of the district where 85 medical teams are providing health services to flood-hit people.

"Due to floods, academic activities have been suspended at 325 educational institutions including 294 primary schools, 23 secondary schools, seven madrasas and a college in the district," the DRRO added.

Talking to BSS, Divisional Commissioner Md. Abdul Wahhab Bhuiyan said relief operations are continuing in deluge-affected districts in Rangpur division where medical teams are providing health services to flood-hit people.

"We are closely monitoring flood situation with officials of other departments concerned despite the situation started improving in deluge-hit districts of Rangpur division," he added