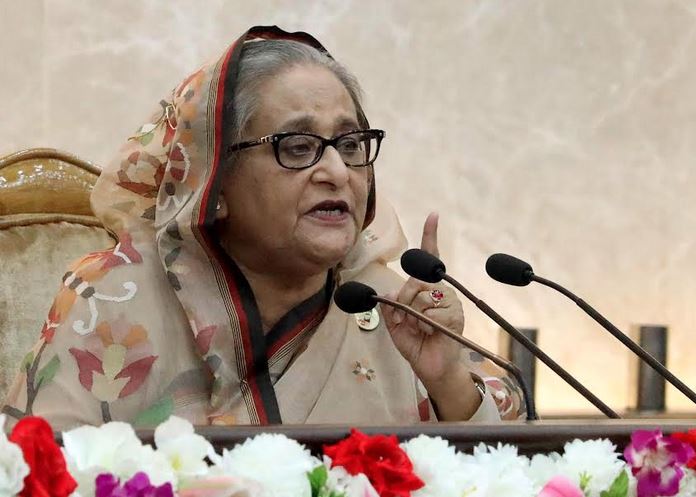 DHAKA, June 22, 2022 (BSS) - Following is the full text of the speech of Prime Minister Sheikh Hasina.


Bismillahir Rahmanir Rahim

Dear journalist brothers-sisters, and distinguished guests
Assalamu Alaikum.

I have appeared before you in person after many days due to the Coronavirus pandemic. But, today my heart is a little painful. You know, severe flood hits hard two northeast districts of the country - Sylhet and Sunamganj. Moulvibazar and Habiganj in Sylhet division have also been flooded. Besides, 11 districts, including Kurigram, Lalmonirhat, Nilphamari, Rangpur, Jamalpur and Sherpur, in the northern region have also been inundated.



The monsoon begins. It is normal that there will be floods at the time of the monsoon. A normal flood is expected. Floodwater makes our arable land fertile and fresh. It washes away our wastes and garbage. The people of our country are used to living with such floods. Our government also has the capacity to deal with normal floods.


But, the last week's flood in Sylhet was unimaginable. Even if it is called catastrophic, it cannot be explained. There was unusual rainfall in Meghalaya and Assam in India, the upstream of Sylhet division. Cherrapunji? in Meghalaya received more than 2,500 mm of rainfall in three days, while 972 mm of rainfall was recorded in the previous 24 hours till last Friday, which was the highest in the last 122 years.


Meghalaya and Assam are hilly areas. As a result, rainwater rapidly ran off to the low-lying plain areas and flooded Sunamganj-Sylhet districts. The haors and rivers of this region have the capacity to hold normal flood water. But these haors or rivers do not have the capacity to hold and carry such a huge volume of water.

As a result, water swelled and flooded villages, towns, cities, roads and highways. This year's flood is the worst in memory. In the last 100-125 years, such a catastrophic flood did not take place in these areas.


Neither the people nor the government has the capacity to tackle natural disasters. However, the government has a responsibility to minimise the loss of life and assets of people and their suffering in natural disasters. This is a matter of consideration whether a government is performing its responsibility properly or not.



You know, immediately after I got informed of the flood, I was directed to carry out rescue operations and relief programmes.


Without consuming time, we have deployed the army, navy, air force, Border Guard Bangladesh, coast guard and police force along with the civil administration.


Activities of the Armed Forces till 21 June 2022:
Forces
Personnel deployed
Recovery
Relief distribution
Medical facilities
Army
17 and 19 Infantry Divisions
11,380 families
23,446 families
10,314 families
Navy
Officers + divers
06+100=106
200 families
800 families
30 families
BGB
Officers + Joans 70 + 1550 = 1620
1,250 families
4,000 families
500 families
Coast guard
Officers + crew
04+76=80
100 families
600 families
30 families


Over 100 boats, helicopters and other vehicles of different forces have been deployed in rescue operations.
Bangladesh Army's 500 members with seven helicopters and transport aircraft are working constantly in rescue operations and relief distribution in the Sylhet area.

Besides, leaders and workers of the Awami League and it's associate bodies-Chhatra League, Jubo League, the Swechchasebak League, and Krishak League have been given directives to extend cooperation to the flood-affected people. They are carrying out relief programmes in flood-hit areas.

I myself inspected flood-hit areas in Sylhet, Sunamganj and Netrakona districts yesterday. The highest measures have been taken to lessen suffering.

A total of 1,285 shelter centres have been opened in the flood-hit Sylhet region. Some 300 medical teams are working there.

Till yesterday, 900 metric tonnes of rice and Taka 3.35 crore cash and 55,000 packets of dry and other foods have been allocated in 11 flood-hit districts.

At this moment, what is needed foremost are dry foods and pure drinking water. We are taking up these measures. Our party leaders and workers are also reaching out dry and cooked foods to the affected people as per their capacity.

Water levels have started falling in Sylhet and Sunamganj districts. Hopefully, the situation will improve a lot within one or two days.

I have given directives to take up a programme for repairing houses and agricultural rehabilitation. Preparations are being taken to do specific works by different ministries.

I want to assure the people in flood-hit areas that the government stays beside you. We are taking up the highest initiative to lessen people's suffering.

Padma Bridge Opening
The much awaited Padma Bridge will be inaugurated on June 25 on Saturday, Insha Allah. Padma Bridge is our pride.
Mighty Padma kept separated southern region from capital Dhaka and other districts. The people of southern region know that how much pain and risk they had to face and how much time they spent to reach Dhaka.
After Awami League formed government in 1996, I visited Japan in 1997. I had proposed building bridges on rivers Padma and Rupsha. The Japanese government agreed to construct bridges on the two rivers. As river Padma is a mighty river having strong current, so they began Padma River surveying and they began construction works on river Rupsha at my request.
In 2001, they gave us survey report on construction of a bridge on river Padma. In the Japanese survey, Mawa point of Munshiganj was selected as location for Padma Bridge construction. On the basis of the survey, I formally laid the foundation stone of Padma Bridge at Mawa in Munshiganj on July 4 in 2001. But we could not come to power in 2001 elections. After assuming power, the BNP-Jammat alliance government stopped the bride construction programme at Mawa point and told the Japan government to conduct survey again for Padma Bridge at Aricha point in Manikganj. After surveying for second time, Japan submitted report specifying Mawa point as location for Padma Bridge construction.

After assuming power in 2009 again, we included Padma Bridge construction in the list of highest priority. On the 22nd day of assuming office, New Zeeland based consultant firm Monsel Eicom was appointed to prepare complete design of Padma Bridge. At the outset, railways facility was not in the bridge project. I ordered to formulate final design after adding railways facility.
Design was finalized by 2010. In January next year, DPP was revised. Due to revision, the project cost stood at Taka 20,507 crore. There were several reasons behind the increase of cost. At the outset, the length of main bridge was 5.5 kilometer which was later increased to 6.15 kilometer.

In the first DPP, design was made keeping space for vessel movement beneath three of 41 spans of the bridge. Later, the DPP was revised where scopes for vessel movement beneath 37 spans were added.

Rail connectivity having capacity of bearing much weight was added in the revised DPP. Instead of concrete, ispat or steel infrastructure was added. Much depth was also adopted for pilling work of the bridge construction. Rehabilitation cost of the people who faced losses (due to land acquiring) also increased.
In 2016, when the cost was increased, contractors were appointed for all works including construction of main bridge and river treatment. Meanwhile, Bangladesh currency depreciated by Taka 9 against US dollar. Works of river treatment for 1.3 kilometer was added afresh.

The cost which was estimated for appointing contractors in main bridge construction, river treatment and approach roads construction increased by around Taka 8,000 crore.
Besides, costs of land acquisition increased, shifting of ferry ghat required costing and Army was deployed to ensure security.

Latest, Taka 1400 crore cost has increased due to land acquisition in 2018. Earlier, it was assumed that land would be taken lease for discarding extracted sand due to river treatment. But it could not be possible. At last, char land in river was acquired for this work.



Summary of sector-wise cost of the Project
(Till June 21, 2022)
Overall Progress: Physical-94.50% and financial-91.85%
Main Bridge: Physical-99.50% and financial-98.39%
River treatment: Physical-94% and financial 89.10 %
Sector-wise description Sector-wise allocation in Revised DPP Cost (Taka in crore)

1 2 3
Total approved cost of the project Taka 30,193.39 crore 27,732.08
(91.85%)
Cost of main bridge Taka 12,133.39 crore 11,938.63
(Including Taka 1000 crore for 400 KV
transmission line tower and gas line)



River treatment Taka 9,400.00 crore
(Including Sinohydro, WDB, BIWTA) 8,706.91

Approach Roads Taka 1,907.68 crore
(Including 2 toll plazas,
2 thana buildings and 3 service areas) 1,895.55
Rehabilitation Cost Taka 1,515.00 crore 1,116.76
Land Acquisition Taka 2,698.73 crore 2,698.73

Between April and June in 2011, loan agreements were signed with World Bank, Asian Development Bank (ADB), JICA and Islamic Development Bank (IDB) for financing in the bridge project.

Later, the conspiracy began. I have repeatedly remarked who were behind the conspiracy. It was really beyond imagination that one can make harm to the people of the country for meager personal interest.
Apart from those conspirators, there was a group inside the World Bank who had wanted to illicitly influence on some issues.

At a stage of selection of prequalified contractors, World Bank asked the technical committee to drop a pre-qualified contractor as it was in the black list of the World Bank and asked to make an ineligible contractor in prequalification as eligible.

The technical committee led by Professor Jamilur Reza Choudhury dropped a pre-qualified bidder as it was in black list of the World Bank. But it disagreed to make the ineligible bidder in pre-qualification scrutiny as eligible by giving fake certificate.

The World Bank continued putting indirect pressure in favor of the institution to make it eligible. After that they started obstructing Padma Bridge work. At one stage, a three-member expert panel headed by Luis Moreno Ocampo was sent to Dhaka. After coming to Dhaka, Ocampo held meetings with different anti-government individuals and groups.

He asked to arrest Economic Affairs Adviser Dr Mashiur Rahman, the then Bridges Division Secretary Mosharraf Hossain Bhuiyan and Communications Minister Syed Abul Hossain.

We ordered Anti-Corruption Commission (ACC) to investigate the matter. ACC didn't find any evidence of corruption. Later, it was proven in a Canadian court that there was no corruption in Padma Bridge.

Actually, World Bank stepped away from financing the Padma Bridge, which was dreamt by millions in Bangladesh, due to negative report of the WB's expert panel headed by Luis Moreno Ocampo.
At a cabinet meeting on July 9 in 2012, I announced the construction of the Padma Bridge with our own fund. The international lending agencies were also told not to take money for the Padma Bridge.
Then you have seen how a quarter of intellectuals and economists of our country had resorted to fabricated criticism. (Given on a separate page.)
We did not compromise with the quality of the Padma Bridge construction works. This bridge was constructed using the latest technology and materials of the world. The whole construction process was completed by maintaining the highest standards. The piles or the base of the Padma Bridge is still the deepest in the world. The piles of this bridge were laid up to a maximum depth of 122 metres. Sophisticated technology has been used for the prevention of earthquake risk.
We have taken proper measures to rehabilitate the families affected directly or indirectly due to the land acquisition for this project.
Residential and commercial plots have been allotted to the affected families including the landless ones. Additional assistance and homestead development assistance have been provided. Various work-oriented and income-generating trainings have been given to them to improve their living standard. To protect the environment, we have declared the rehabilitated area as 'Padma Bridge Wildlife Sanctuary'.
The vehicles will run on the upper deck of the multipurpose bridge while trains on its lower deck. After the opening of the bridge, it will be possible to establish direct connectivity between the capital Dhaka and the country's southwestern 21 districts by road and rail.
As a result, on one hand the long suffering of the people of the region will be eased, on the other hand it (bridge) will significantly improve the economy of the country. The bridge is expected to contribute to GDP by 1.2-3 percent and cut poverty by 8.4 percent per year.
New economic zones and hi-tech parks will be built centering this bridge. So, local and foreign investors will be attracted and the pace of the country's industrialisation will be accelerated. The Padma Bridge will act as a big link for connecting with the Asian Highway. So, the role of this bridge is immense in regional trade. Besides, tourism industry will be expanded on both banks of Padma.
This bridge has been built with the hard work of hundreds of people. Apart from Bangladesh, experts and engineers from China, India, the United States, the United Kingdom, Canada, Germany, Australia, New Zealand, the Netherlands, Singapore, Japan, Denmark, Italy, Malaysia, Colombia, Philippines, Taiwan, Nepal and South Africa were involved in the bridge construction.
Today the Padma Bridge has been built overcoming all the conspiracies and obstacles, thanks to the great Rabbul Al-Amin (Almighty Allah). I also want to thank the people of Bangladesh - they were beside me. Today, the Padma Bridge stands with its head high due to their cooperation.
Dear journalist brothers and sisters,
The ongoing coronavirus pandemic and the Russia-Ukraine conflict have put the world in a volatile situation. The supply chain of goods is broken. Production and transportation of food grains are being disrupted. The price of fuel oil has risen at an unusual rate. The transport fares went up too. As a result, the prices of various goods have gone up. We are trying to keep the prices of commodities affordable by keeping the wheel of economy smooth. At this point, we need to be cost effective and must stop wastage.
In May, the inflation was 9 percent in Britain, while 8 percent in the United States, 7.9 percent in India and 54.8 percent in Turkey. In Bangladesh, food inflation increased to 7.42 percent last month while the average inflation was 6.2 percent.
The Awami League government is a government of commoners. The main goal of our government is to improve the fate of the common people. Metrorail and a tunnel being constructed beneath the Karnaphuli River will be inaugurated this year, Insha Allah. Construction of the Elevated Expressway in Dhaka is in progress. Works of other projects including mega ones, we have taken, are also progressing as usual.
Our goal is to become a higher-middle income country by 2030-31 with the fulfillment of the goals of SDGs and a developed-prosperous one by 2041. With the cooperation of the people, we will fulfill these promises like our pledges of the past, Insha Allah.
Thanks you all.
Khoda Hafez
Joy Bangla, Joy Bangabandhu
May Bangladesh live forever