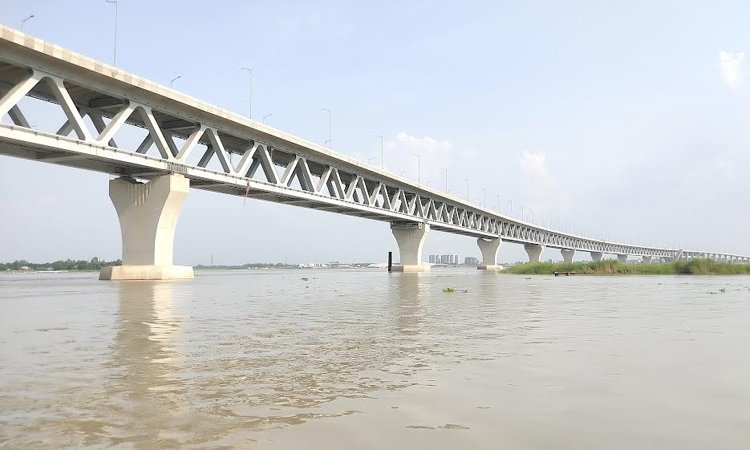 DHAKA, June 22, 2022 (BSS) – Prime Minister Sheikh Hasina at a press conference today came up with a brief focus on the 'negative and discouraging' comments made by BNP, a section of economists, former bureaucrats and civil society personalities about the government's capacity to build the Padma Bridge with own fund when lead-lender World Bank cancelled its loan package for the dream project on false corruption allegations.
On October 17, 2011, Khaleda Zia said: "This is the first time World Bank has cancelled its credit for any development project of Bangladesh after the independence."
On January 2 in 2018 at a rally of Chhatra Dal, the BNP chairperson said: "The government is making people dream of Padma Bridge. But Padma Bridge will not be built during Awami League's tenure. The bridge is being built with patchwork. Don't get on this bridge. There'll be huge risk."
On July 1, 2012, Dr Akbar Ali Khan said it will be very difficult for Bangladesh to manage loan in future because of the World Bank's such decision. Whenever any donor agency will be interested in any new project, they will treat Bangladesh differently due to corruption.
If the government initiates the work of Padma Bridge with any alternative funding, cost will increase a lot and question will also linger over quality of works.

Badiul Alam Majumder said this incident is another example that corruption is taking us backward and ruining the country's development trend.
Terming the World Bank's allegation as a regretful incident, Executive Director of Policy Research Institute Ali Ahsan Mansur said due to good governance, the country's biggest project today falls prey to uncertainty.
TIB Executive Director Dr Iftekharuzzaman said the decision the government has taken for financing in Padma Bridge from alternative sources can be considered as a way to divert the attention (from the allegations of corruption). Even if this decision becomes successful, it won't enhance the government's acceptability.
On July 10, 2012, Mirza Fakhrul Islam Alamgir said the World Bank specifically raised allegations against three persons-Prime Minister, Finance Minister and former Communications Minister.
MK Anwar said Bangladesh has no capacity to implement big project like Padma Bridge with own fund.
On July 23 in 2012, BNP stated that resignation of Communications Minister Syed Abul Hossain 10 months after the raising of allegations proved it that truly there was corruption in this project.
On July 24, 2012, Mirza Fakhrul Islam Alamgir, said resignation of Abul Hossain proved it that all allegations of corruption were true. If he had resigned earlier, the World Bank would not have cancelled its loan agreement.
TIB Executive Director Dr Iftekharuzzaman said it has been too late. It (resignation) should be made at the time when World Bank raised allegations of corruption several months ago.
(11) Dr Akbar Ali Khan
The decision of resignation has come so lately; it should come earlier.
(12) Khandaker Mosharraf Hossain, BNP standing committee member
28 July 2012
Abul Hossain is not a patriot, he is a person with no shame. So he resigned 10 months after the World Bank raised the allegation. Why did the prime minister talk in favour of a corrupt person?
(13) Brg. General (retd) ASM Hannan Shah, BNP standing committee member
Sheikh Hasina is a corrupt prime minister. She should set an example by resigning from her post.
(14) Professor Emazuddin Ahmed, former vice chancellor, Dhaka University
If Abul Hossain is a patriot, so who is not a patriot the prime minister's support for him has proved that the people who swindle public money have the right to belonging political parties.

(15) Mahmudur Rahman Manna
Why should the prime minister give someone certificate of patriot and why did she do so by going to London? As per the demand of the prime minister, if the communication minister has the self-respect, he would have resigned from his post before the allegation raised.
(16) BNP on 6 December 2012
Despite raising graft allegation in the Padma Bridge project, the Anti-Corruption Commission is trying to save former communication minister Syed Abul Hossain.
(17) Ali Imam Majumder
11 February 2014
The ACC completely failed to perform its responsibility in probing the graft allegation in the Padma Bridge project. If the ACC perform its duty, the World Bank would not have taken the decision of withdrawing fund from the project. Apart from the development partners, the country's people expect fair and transparent role from the ACC.
(18) Dr Saleh Uddin, former governor, Bangladesh Bank
It is not possible to implement the plan the government is going with construction of the Padma Bridge with own funding. But, if the government wishes, it can lay the foundation stone; but it cannot complete the project.
(19) Lawyer Shahdeen Malik
Padma Bridge could not be constructed with domestic financing, it is not possible.
Dr Ahsan H Mansur, Policy Research Institute director
1 July 2012
Although the Padma Bridge construction work begins, finally there will be no guaranty…at the moment, if the government starts the bridge work, the value of US dollar will go up while Taka will be devalued. Inflation will increase too.
(21) Dr Debapriya Bhattacharya, distinguished fellow at CPD
A huge amount of foreign currency is needed to implement the mega project, which could put pressure on foreign reserve. The government could not avoid its responsibility…but, for this, they have to face terrible new problems.
(22) Professor Mustafizur Rahman, CPD distinguished fellow
At this moment, if the Padma Bridge is started with own funds, the works that could have been done for the development of other infrastructures of the country would no longer be done.