"PM's 10 initiatives create solid base to build developed Bangladesh"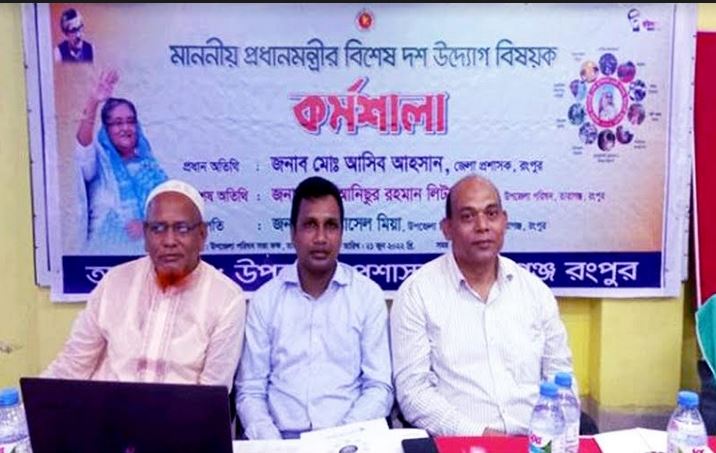 RANGPUR, June 22, 2022 (BSS) - Smooth implementation of the 10 special initiatives of Prime Minister (PM) Sheikh Hasina has created a solid base accelerating national progress to build a developed Bangladesh by 2041 as envisioned by the Premier.

The observation came at a daylong workshop on the "Ten special initiatives of Prime Minister Sheikh Hasina" held at Taraganj upazila parishad auditorium in Taraganj upazila town here on Tuesday.

Deputy Commissioner Md. Asib Ahsan virtually inaugurated the workshop organized by the Taraganj upazila administration at the initiative of the Governance Innovation Unit of the Prime Minister's Office as the chief guest.

Presided over by Taraganj Upazila Nirbahi Officer (UNO) Md. Rasel Miah, fifty people including upazila level government officials, politicians, representatives of NGOs, teachers and journalists participated in the workshop.

Taraganj Upazila parishad Chairman Anisur Rahman Litan, its Vice-chairmen Golam Saidel Kawnanine and Sabina Yasmin and President of Taraganj Upazila Awami League Md. Atiar Rahman spoke as special guests.

The UNO presented a documentary on the 10 special initiatives of Prime Minister Sheikh Hasina.

The PM's ten special initiatives are: Palli Sanchay Bank (Amar Bari, Amar Khamar), Asrayan Prokalpo, digital Bangladesh, education assistance, women empowerment, electricity for all, social safety program, community clinic and mental health, investment development and environment protection.

Later, the participants participated in group works and forwarded recommendations, including challenges of implementing 10 special innovative initiatives at local level and identifying new possibilities and issues for much publicity.

Atiar Rahman said Bangladesh has achieved outstanding developments in every sector and is moving onward on the highway of progress under the shining leadership of Prime Minister Sheikh Hasina.

"The election manifesto of the present government has given priority to ensuring basic rights of people, including poverty and hunger eradication, housing, education, medical care and social security," he said.

The chief guest discussed tremendous successes achieved by the government in materializing a digital Bangladesh and ten special initiatives, prevention of militancy, terrorism and drugs to accelerate national development.

"The tremendous successes achieved in education, health, agriculture, social safety programs, poverty alleviation, communication, power generation, women and children progress and empowerment and IT sectors are being appreciated globally," he added.

He said implementation of the PM's ten special initiatives is progressing smoothly to build a developed 'Sonar Bangla' as dreamed by Father of the Nation Bangabandhu Sheikh Mujibur Rahman.