Identifying obstetric fistula patients crucial to end the disease: experts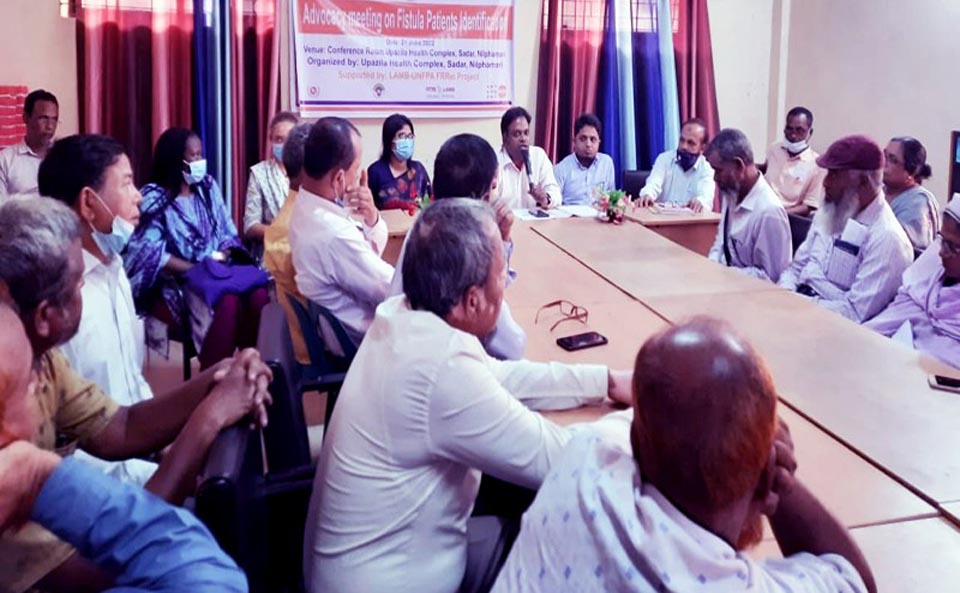 NILPHAMARI, June 22, 2022 (BSS) - Experts at an advocacy meeting have termed identifying obstetric fistula patients as very crucial to bring them under cost-free treatment facilities aiming at ending fistula by 2030 next.

They expressed the view at the meeting on 'Fistula patients identification' organized by Nilphamari Sadar Upazila Health Complex at its conference room here on Tuesday.

LAMB Hospital at Parbatipur extended technical support in arranging the event under the UNFPA Bangladesh funded Elimination of Genital Fistula by Capturing, Treating, Rehabilitating and Reintegrating in Bangladesh (FRRei) project.

One-hundred people including Community Health Care Providers (CHCP) of different community clinics, Health Assistants, Assistant Health Inspectors and officials of health service providing organizations and LAMB Hospital participated in the event.

Nilphamari Sadar Upazila Health and Family Planning Officer Dr. Abu Hena Mostafa Kamal presided over the meeting.

Medical Officer (Disease Control) of Nilphamari Sadar Upazila Health Complex Dr. Imran Kabir addressed the event coordinated by District Coordinator of the FRRei project Monju Ara Begum.

Deputy Project Manager of FRRei project Dr. Tahmina Khatun Sonia delivered a presentation on 'Obstetric fistula, fistula patient identification, treatment and rehabilitation' giving a summary of fistula situation and fistula elimination activities as a resource person.

She discussed causes behind the intolerable but preventable disease, available cost-free treatment facilities and ongoing activities for rehabilitation of obstetric fistula patients in Rangpur and Rajshahi divisions.

She discussed services being provided to fistula patients by LAMB Hospital, different medical college hospitals, district and upazila level hospitals, union level health service providing facilities in identifying and referral of fistula patients for treatments.

Dr. Sonia stressed on creating social awareness to stop child marriage, child pregnancy and ensure safe institutional deliveries of pregnant mothers and quality and safe surgeries to eliminate obstetric fistula.

Dr. Kamal said obstetric fistula is a devastating injury in which an abnormal opening forms between a woman's bladder and vagina, resulting in urinary incontinence, chronic health complexities, depression and social isolation.

He suggested involving field level health workers and health service providers, public representatives, religious and community leaders in identifying obstetric fistula patients to bring them under cost-free treatment facilities.

"LAMB Hospital with the government is appreciably implementing programs like case identification, referral for diagnosis, timely management, motivation, counseling, follow up and comprehensive rehabilitation and reintegration to free the society from obstetric fistula by 2030," he added.