CSE Fest-2022 held at RUET amid jubilation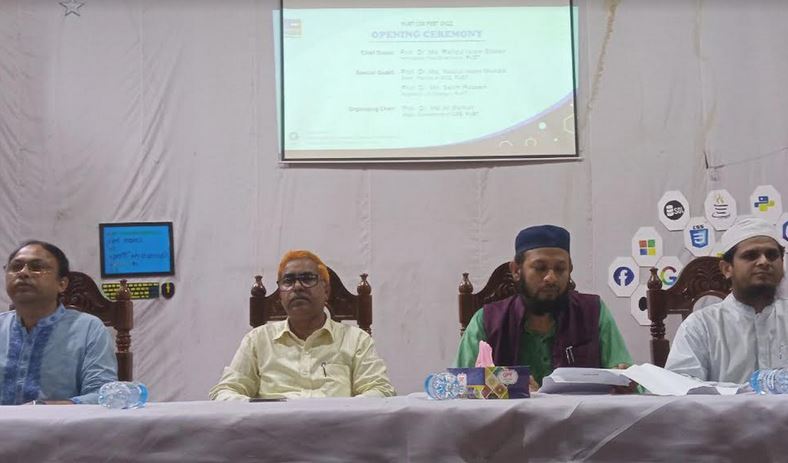 RAJSHAHI, June 4, 2022 (BSS)- A daylong CSE FEST-2022 was held at Rajshahi
University of Engineering and Technology (RUET) amid enthusiasm and
jubilation today.
The Department of Computer Science and Engineering (CSE) hosted the festival,
one of the biggest tech carnivals for the enthusiastic mega minds of
Bangladesh, with eight segments.
The segments are-- Inter-University Programming Contest, Project Showcasing,
Idea/Poster Contest, Line Follower Robot, Gaming Contest, Tech Photo
Exhibition, Quiz Contest and Workshop in association with the Institute of
Electrical and Electronics Engineers (IEEE).

More than 750 students from over 70 universities based on their projects and
ideas joined the festival.
Vice-Chancellor (VC) Professor Rafiqul Islam Sheikh addressed both the
inaugural and closing ceremonies of the festival as the chief gues with CSE
Head Prof Al Mamun in the chair.
Dean of Electrical and Computer Science Faculty Prof Nazrul Islam, Registrar
Prof Selim Hossain, Research and Extension Director Prof Faruque Hossain,
Students Welfare Director Prof Raqbiul Awal and Administrator of Central
Computer Centre Prof Ali Hossain also spoke.

In his remarks, Prof Rafique Sheikh said they are overwhelmed witnessing the
spontaneous participation of students from across the nation.
The students' enthusiasm has surpassed their expectations and the ideas they
have entered with are full of possibilities.
Prof Sheikh said youth are the future of the country and it is the
responsibility to properly nurture their talent and guide them in the right
direction.
As a whole, RUET has always prioritized youth development and will continue
to do so with similar initiatives.
Established in 1964, RUET has been providing high-quality education and top-
notch research to address worldwide challenges.
Among 18 Departments, the CSE has had an illustrious tradition of success
since its establishment in 1998. Within the long span of its existence, the
Department has achieved remarkable success and continues to forge its future
with new initiatives.