Condolence meeting for Abdul Gaffar Chowdhury held in city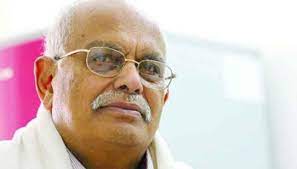 DHAKA, May 27, 2022 (BSS) – A condolence meeting was held today in the capital to commemorate Language Movement veteran, legend journalist and prominent columnist Abdul Gaffar Chowdhury.
The socio-cultural organisation "Soptoborna Sangsad" arranged the function
at Sector-6 park in city's Uttara area as a doa mahfil was also held for seeking eternal peace of the departed soul of
Chowdhury.
Soptoborna Sangsad's president Masudul Haque Chowdhury Bahar chaired the condolence meeting as National Press Club's former general secretary Quamrul Islam Chowdhury was present as chief discussant.
Prof Dr Sabbir Ahmed Khan, musician Rumi Ajnabi, freedom fighter Akram Hossain and cultural activists Suruzzaman and Abul Kashem Sarkar also spoke while Soptoborna Sangsad's vice-president Baharul Islam Talukder conducted it.
Quamrul Islam mentioned Chowdhury's courage in exposing truth including his relations with Bangabandhu Sheikh Mujibur Rahman as well as contribution to Liberation War and Language Movement.
He said, "Gaffar Chowdhury's immortal creation the song of Ekushey will get the Bangalee nation alive in the world".
Gaffar Chowdhury is widely known across the social strata for ages for the famous song -- Amar Bhaiyer Rokte Rangano Ekushey February Ami Ki Bhulite Pari? (My Brothers Blood Spattered 21 February Can I forget the twenty-first of February incarnadined by the love of my brother?)

He passed away on May 19 at a hospital in London at the age of 88.