Institutional delivery for eliminating obstetric fistula stressed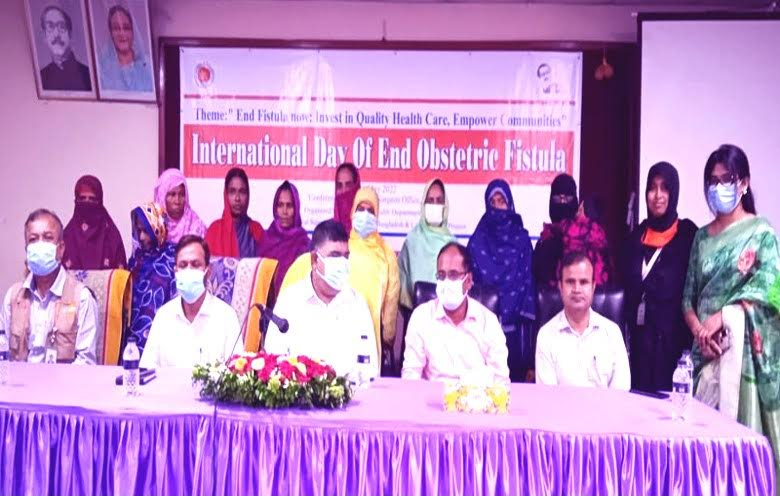 RANGPUR, May 27, 2022 (BSS) - Experts at a discussion have stressed on ensuring institutional delivery of pregnant mothers, proper antenatal and postnatal supervision and preventing child marriage are crucial to eliminate obstetric fistula.
They viewed this at the event organized by Rangpur Divisional Health Department at the conference of Civil Surgeon's Office in the city in observance of the International Day to End Obstetric Fistula-2022 on Thursday afternoon.
The Directorate General of Health Services and LAMB Hospital under the UNFPA Bangladesh funded Elimination of Genital Fistula by Capturing, Treating, Rehabilitating and Reintegrating in Bangladesh (FRRei) project extended support to arrange the event.
Thirty participants including officials and experts of the Health Department, UNFPA Bangladesh, LAMB Hospital and 10 cured obstetric fistula patients from Sadar, Taraganj, Gangachara and Pirgachha upazilas in Rangpur district participated in the event.
Cured patients Morsheda of Taraganj upazila, Peyari of Harati village in Rangpur Sadar and Rawshan Ara of Pirgachha upazilas narrated their unbearable experiences of suffering from obstetric fistula and getting cured with treatments from LAMB Hospital.
Divisional Director (Health) Dr. Abu Md. Zakirul Islam attended the discussion as the chief guest with Civil Surgeon of Rangpur Dr. Md. Shamim Ahmed in the chair.
Divisional Director (Deputy Secretary) of the Department of Social Services Md. Abdul Motaleb, Divisional Deputy Director (Health) Dr. Md. Habibur Rahman and Divisional Assistant Director (Health) Dr. Mohammad Mesbaul Hassan Chowdhury, Deputy Civil Surgeon Dr. Ruhul Amin and Technical Officer of UNFPA Bangladesh Dr. Animesh Biswas addressed as special guests.

Acting Project Manager of the FRRei project of LAMB Hospital Mahatab Liton moderated the event.

Deputy Project Manager of the FRRei project Dr. Sonia presented a keynote essay giving a summary of the present fistula situation in Rangpur and Rajshahi divisions and ongoing fistula elimination activities.


She discussed the causes behind the intolerable but preventable disease, available treatment facilities and cited statistics of the identified fistula patients, numbers of operated and rehabilitated fistula patients at the divisional and national levels.
Dr. Animesh Biswas stressed on creating social awareness to inspire people for availing the institutional facilities for safe delivery and completely stop child marriage which is one of the major causes for developing obstetric fistula during delivery.
He discussed the services being provided to fistula patients by LAMB Hospital, different medical college hospitals, district and upazila level hospitals, union level health service providing facilities in identifying and referral of fistula patients for treatments.
The chief guest stressed on coordinated efforts to eliminate obstetric fistula, a devastating injury in which an abnormal opening forms between a woman's bladder and vagina, resulting in urinary incontinence, chronic health complexities and depression and social isolation.
"Institutional delivery, stopping child marriage, identification of fistula patients, counseling for proper treatments, quality and safe surgeries and rehabilitation are crucial to free the country from fistula and attain the sustainable development goals," he said.