Ctg city AL conference to be held on October 1: Hanif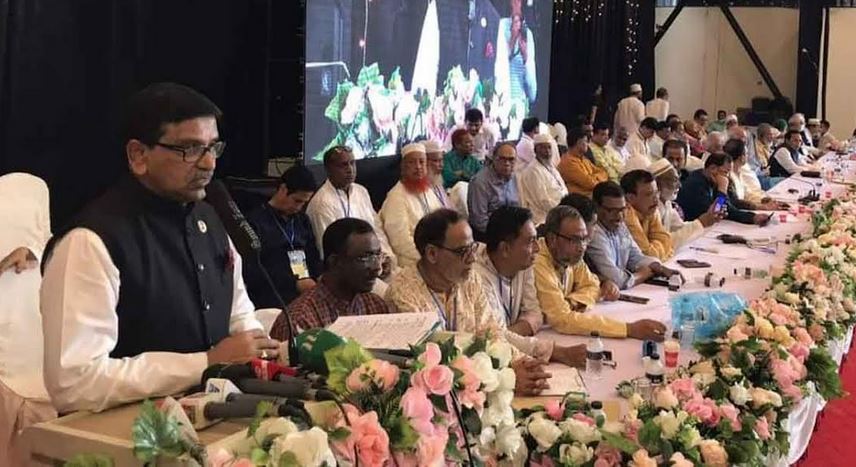 CHATTOGRAM, May 25, 2022 (BSS) - Awami League (AL) joint general secretary
Mahbubul Alam Hanif, MP said that the conference of Chattogram City AL will
be held on October 1.
"The conference of city AL units, wards and police stations units will be
held before October 1," said Hanif addressing as the chief guest in a member
renewal and recruitment drive function of city AL at city's Kazir Deuri
International Convention Hall this afternoon.
Terming mass people as AL's main power, Hanif said, "If we are able to
rearrange the organization, AL will come to power through the next
elections."
"The AL has upgraded Bangladesh as a middle-income country from a poor one.
AL is involved in all the development of the country. If the AL is in power
constantly, the nation will become a developed one before 2041," he added.
He said BNP-Jamaat tried to turn the country into a failed state while the
country is moving forward under the leadership of Prime Minister Sheikh
Hasina.
"The BNP has repeatedly lied. BNP does not want progress of the country.
Khaleda Zia had written a letter to cancel the GSP facility. In 2020, the BNP
hired lobbyists to impose sanction on RAB, in a bid to worsen the country's
law and order situation," he said.

Blaming the BNP for the clash between Chhatra Dal and Chhatra League in Dhaka
on Tuesday, Hanif said the BNP was lying against the government at the press
club.

Pointing to the party leaders and workers, Hanif said, "Don't be hypocrite
with the party, do not trade positions of the party.....qualified people have
to be recruited from the grass root level."
Acting President of City AL Mahtab Uddin Chowdhury presided over the function
while Engineer Mosharraf Hossain MP, Whip Abu Saeed Al Mahmud Swapan MP,
Begum Wasika Ayesha Khan MP, Deputy Minister for Education Barrister Mahibul
Hasan Chowdhury Nowfel, MP, among others, addressed the function.
Former Mayor and General Secretary of City AL AJM Nasir Uddin conducted the
function while AL Central Relief and Social Welfare Secretary Sujit Roy
Nandi, Central Agriculture and Cooperatives Secretary Begum Faridunnahar
Laili, Central Deputy Publicity and Publication Secretary Aminul Islam Amin,
among others, attended the function.