47 injured in JCD, BCL clash, three detained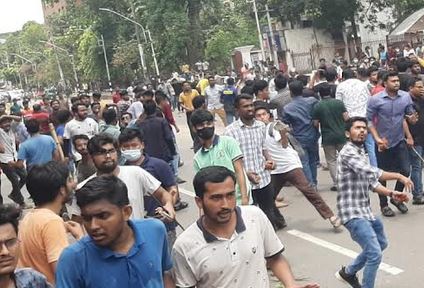 DHAKA, May 24, 2022 (BSS) - Leaders and activists of Bangladesh Chhatra League (BCL) and Jatiotabadi Chhatra Dal (JCD) locked into clashes at Dhaka university campus today, leaving at least 47 people injured.
Among the injured, 16 were activists of Bangladesh Chhatra League while 31 were from Jatiotabadi Chhatra Dal, according to top leaders of both organisations. The injured activists were taken to Dhaka Medical College Hospital (DMCH), they added.
The first clash took place around 9:30am when JCD activists tried to enter the university campus which resulted in chase and counter-chase between the two organizations from Central Shaheed Minar to Curzon Hall area.
At 11:30am in the morning, another clash took place between the activists of both students' bodies, leaving more people injured, said eye witnesses.
"Three people, including two JCD leaders, have been detained in connection with the incident of clash," said Shabagh police station officer-in-charge (OC) Moudud Hawlader. They are being questioned at Shabagh police station, he added.
However, the decision over filing a lawsuit by police over the clash has not been made yet, he furthered.
"Some 16 leaders and activists of Chhatra league were injured when they were helping the general students who were attacked by the men of Bangladesh Nationalist Party's student wing JCD," said BCL DU unit general secretary Saddam Hussein.
"JCD leaders and activists, led by its general secretary Saif Mahmud Jewel who himself was carrying a stick, tried to destroy the academic atmosphere and create unrest in the campus," Saddam also said, adding, the general students prevented them from doing such heinous activities.
Some 31 leaders and activists of JCD have been admitted to DMCH and some others left hospital after taking primary treatment, said Member Secretary of JCD DU unit Aman Ullah Aman, claiming that "BCL men carried out the attack on JCD men when they were on their way to hold a pre-scheduled press conference."