High yield of Bangabandhu dhan100 makes farmers happy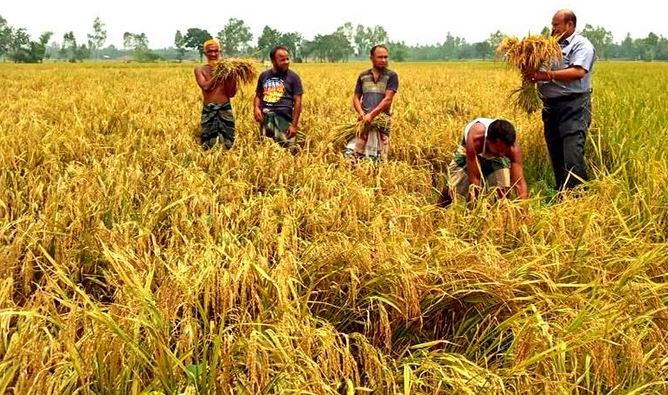 RANGPUR, May 24, 2022 (BSS) - Farmers are happy after getting high yield rate
of zinc-enriched Bangabandhu dhan100 rice between 7.30 and 7.50 tonnes in
terms of dry paddy per hectare of land this season in Rangpur region.

In the last two days, farmers in separate crop cutting functions harvested
six varieties of rice including Bangabandhu dhan100 at different areas of the
region, a press release said this afternoon.

Farmers got high yield of Bangabandhu dhan100 rice evolved by Bangladesh Rice
Research Institute (BRRI) marking the birth centenary of Father of the Nation
Bangabandhu Sheikh Mujibur Rahman last year.

RDRS Bangladesh, an NGO, with assistance of the Department of Agricultural
Extension (DAE) organized the crop cutting functions in different upazilas of
Rangpur, Gaibandha and Lalmonirhat.

The NGO is expanding cultivation of six varieties of rice including
Bangabandhu dhan100 rice with technical assistance of International Rice
Research Institute (IRRI) under the Accelerated Genetic Gains in Rice
Alliance (AGGRi) Project funded by Bill and Melinda Gates Foundation.

In Kawnia upazila of Rangpur, Upazila Agriculture Officer of the DAE
Agriculturist Shahnaj Parvin attended crop cutting functions on exhibition
plots of farmers Abdul Mazid Sarker at village Balapara Hariswar, Morshia
Begum of village Butchara and Nurun Nabi of village Char Shabdi as the chief
guest.

Presided over by Agriculture Officer of RDRS Bangladesh Shahriar Azam Shakil,
Agriculture Extension Officer at Kawnia Upazila Agriculture Office Mohammad
Rakib Alam attended the functions as special guest.

In Taraganj upazila of Rangpur, Sub-assistant Agriculture Officer Badsha
Alamgir Bakshi attended the function on the exhibition plot of farmer
Shahjahan Ali Shipul in village Alampur as the chief guest.

Besides, the NGO organized crop cutting functions on exhibition plots of
farmers Abul Kalam Azad in village Khoddo Komarpur and Shorab Hossain in
village Bhatgram of Sadullapur upazila in Gaibandha and Sushil Chandro in
village Sarartari of Sadar upazila and Keramot Ali in village Purbo Bhelabari
of Aditmari upazila in Lalmonirhat.

In all exhibition plots, farmers harvested six varieties of rice including
BRRI dhan28, BRRI dhan74, BRRI dhan81, BRRI dhan84, BRRI dhan88 and
Bangabandhu dhan100 rice.

"Farmers got maximum yield rates between 7.30 tonnes and 7.50 tonnes of dry
paddy of Bangabandhu dhan100 rice while yield rates of other varieties
remained between 5.50 and six tonnes per hectare of land," the release added.

Agriculturist Shahnaj Parvin stressed on expanding cultivation and
consumption of zinc-enriched rice varieties like BRRI dhan74 to meet zinc
deficiency of common people and enhance their disease resistant capacity.