ICT can empower people with neurodevelopment disorders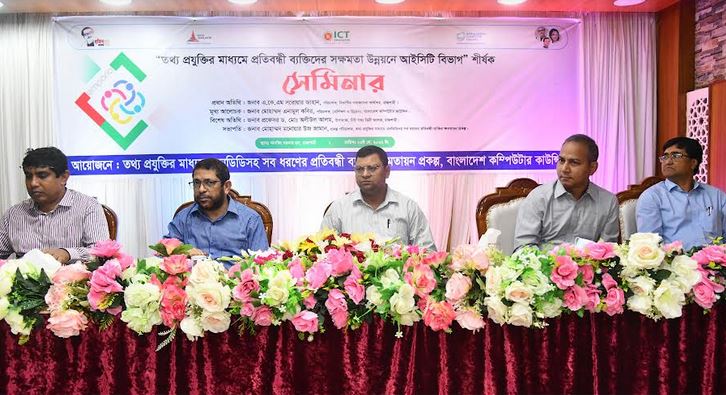 RAJSHAHI, May 23, 2022 (BSS) - The physically and mentally challenged people especially the individuals with neurodevelopment disorders (NDD) can be mainstreamed and empowered by the best uses of Information and Communication Technology (ICT).
The Government and non-government entities should come forward and work together to ensure fundamental rights of the people with special needs through using modern technologies.
The views were expressed at a daylong seminar titled "Empowerment of Persons with Disabilities Including NDD through ICT" held here today.
Local office of Bangladesh Computer Council (BCC) organized the seminar.
Physically and mentally retarded and disabled children must enjoy constitutional rights and must get all privileges and rights as they are the integral parts of the society.
Divisional Director of the Department of Social Services Sarwar Jahan addressed the seminar as chief guest while BCC Project Director Monwar Uz Zaman was in the chair.
BCC Regional Director Sanat Kumar Shaha, Director Enamul Kabir and Vice Principal of Rajshahi New Government Degree College Prof Waliul Alam also spoke.
Sarwar Jahan said people with neurodevelopment disabilities deserve the service and support them need to be safe, educated, healthy, productive so that they can lead normal and happy lives.

He said the present government has been working relentlessly for ensuring rights of people with disabilities including NDD like autism and their access to socio-economic activities like education and employment. Fourteen ministries of the government are coordinating the issue of ensuring rights of individuals with disabilities.
Besides, education programmes for the special groups, parental meetings, training for doctors, field-level health and social workers are being implemented in a coordinated way and now the issue rests on policymakers, parliament members and government officials.
Jahan thanked Prime Minister Sheikh Hasina and her daughter Saima Wazed for taking various steps in establishing rights of the autistic children and disabled people to ensure their education, jobs, health care and other requisite facilities.