Hindi version of poetry book on Bangabandhu unveiled at RU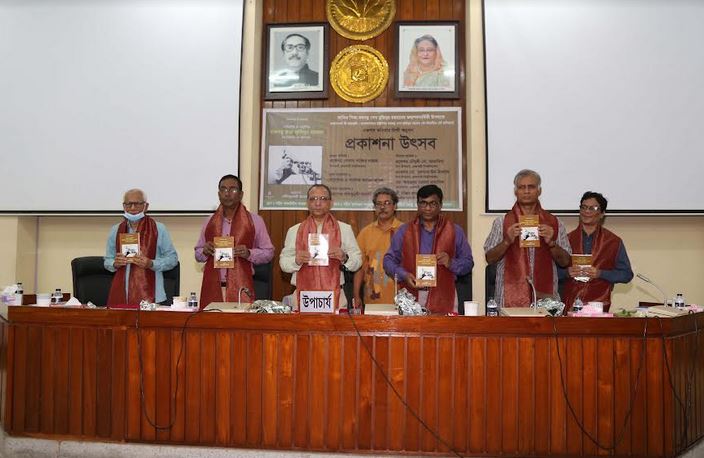 RAJSHAHI, May 22, 2022 (BSS) - A 100-poem Hindi translated book on Father of the Nation Bangabandhu Sheikh Mujibur Rahman was unveiled at a function at Rajshahi University (RU) today.
Published from Delhi, the book will create an avenue of familiarizing Bangabandhu to the Hindi-speaking people in the world, including India.
Professor Safiqunnabi Samadi, a teacher of the Department of Bangla in RU, has translated the poetry book titled "Janmashatabarshiki Shraddhanjali: Bangladeshke Rastrapita Bangabandhu Sheikh Mujibur Rahman" from Bangla to mark the birth centenary of Bangabandhu.
RU Vice-chancellor (VC) Prof Golam Sabbir Sattar, accompanied by Pro-VCs Prof Chowdhury Jakaria and Prof Sultan-Ul-Islam and Treasurer Prof Obaidur Rahman Pramanik, unwrapped the book.
Translator and Researcher Zaved Hossain addressed the ceremony held at RU Senate Building as focal person.
Speaking on the occasion, VC Prof Sabbir Sattar urged all to play due and responsible role to materialize the dreams of Father of the Nation Bangabandhu Sheikh Mujibur Rahman in building 'Sonar Bangla'.

"The nation was taken backward with the killing of the Father of the Nation but her competent daughter Prime Minister Sheikh Hasina with her political wisdom and realistic vision is striving hard to take forward the county with massive developments " he said.
Prof Sattar said the spirit of the Liberation War has been established in the country under the dynamic leadership of Bangabandhu's worthy daughter Prime Minister Sheikh Hasina and Bangladesh is now a unique example of communal harmony before the world.

He said Bangabandhu dreamt of building a secular Bangladesh. But, it is regrettable that the conspirators had destroyed the spirit of non- communalism through killing Bangabandhu brutally.

Besides, he said the country is moving forward with indomitable speed to materialize the dreams of Bangabandhu under the dynamic and visionary leadership of Prime Minister Sheikh Hasina.