Flood situation slightly improves in Sylhet, Sunamganj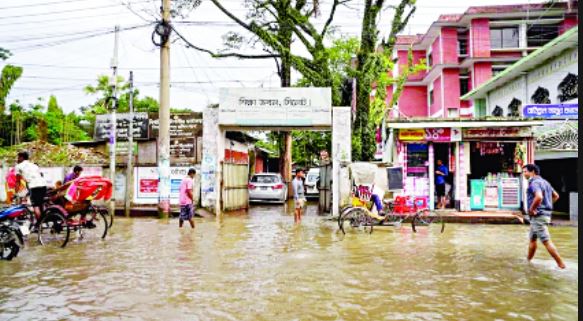 SYLHET, May 21, 2022 (BSS) - Floodwater continues receding from inundated areas of Sylhet and Sunamganj improving the recent flood situation slightly today.
The water level of the rivers including Surma, Kushiyara, Dhalai and Piyain has dropped sharply those areas. However, it is still flowing above the danger marks (DMs).
According to the Water Development Board, Sylhet, the water level in Kanaighat Point of Surma River has decreased by 4 centimeter (cm) from 6 am to 3 pm today while 10 cm at Sylhet point, one cm at Sunamganj point, 3 cm at Chhatak point. However, the water level in these rivers is above the danger level at all points.
Although the water level of the Kushiyara River is declining at two points, another two points are facing increased water level.
The water level was increased by 7 cm at Amalshid point while 1 cm at Sheola point, 3 cm at Fenchuganj and 4 cm at Sherpur.
According to the Meteorological Department, the rainfall in Sylhet will decrease for three days from next Monday.
The water level in Sylhet has started receding due to low rainfall and the flood situation would likely to improve further.