Launch cyber battle against anti-Bangladesh propaganda: Faruk Khan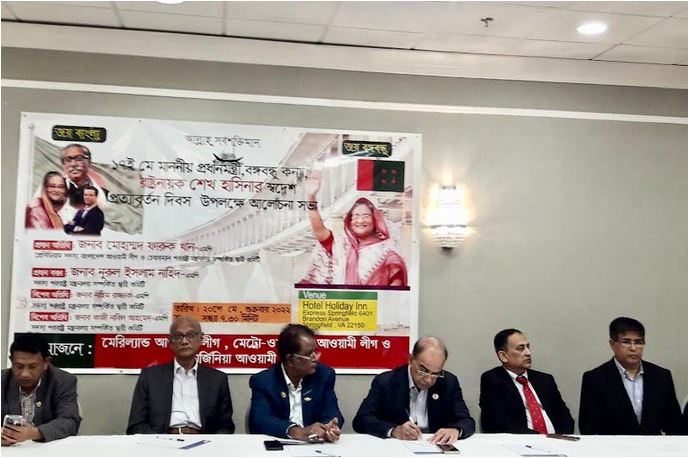 DHAKA, May 21, 2022 (BSS) - Awami League (AL) Presidium Member Muhammad Faruk Khan has called upon the expatriate leaders and activists of the party to launch a cyber battle against BNP-Jamaat's anti-Bangladesh propaganda in a coordinated way.
The BNP-Jamaat nexus is carrying out propaganda, spreading rumours and telling lies against Bangladesh by using digital platform from abroad, he said.
Khan, also the Chairman of the Parliamentary Standing Committee on the Ministry of Foreign Affairs, was speaking as the chief guest at a discussion meeting at a hotel in Virginia on Friday night.
Maryland State Metro Washington and Virginia State units of Awami League jointly organised the meeting on the occasion of the Homecoming Day of Prime Minister Sheikh Hasina.
Khan is leading a delegation of the Parliamentary Standing Committee on the Ministry of Foreign Affairs comprising with Nurul Islam Nahid, Nahim Razzaq, and Kazi Nabil Ahmed to the United States.
He referred to the outstanding contributions of the expatriate Bangladeshis to the country's development and said they are brightening the country's image through honesty, hard work and patriotism.
He said the Awami League has made a demand to the Election Commission for voting rights of the expatriate Bangladeshis.
Pointing to their talks with the Assistant Secretary of State for South and Central Asian Affairs and a number of lawmakers including Senators and Congressmen, Khan said they discussed various issues including recent sanctions on RAB and its some current and former officials, deportation of Bangabandhu's killer Rashed Chowdhury, Rohingya crisis and resumption of Biman's Dhaka-New York direct flight.
Faruk Khan elaborated Bangladesh's tremendous development under the dynamic and visionary leadership of Prime Minister Sheikh Hasina.
Nurul Islam Nahid, who is also AL Presidium Member, was the main speaker at the discussion chaired by President of US chapter AL Dr Siddikur Rahman.
He termed the 17th May as a historic day for Bangladesh and said the homecoming of AL President Sheikh Hasina played an important role in restoring democracy and upholding the spirit of the War of Liberation alongside strengthening the party.
Senior AL leaders from different states of the USA also spoke at the meeting.