Gaffar Chy to remain immortal for Amar Ekushey song: Prof Arefin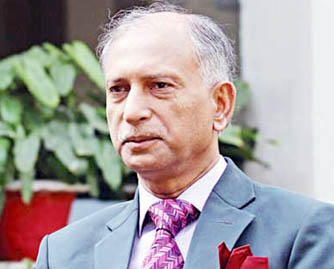 DHAKA, May 19, 2022 (BSS) - Eminent educationist Professor AAMS Arefin Siddique today paid glowing tributes to late journalist and columnist Abdul Gaffar Chowdhury saying he will remain immortal for his legendary song "Amar Bhaier Rokte Rangano Ekushey February".
He said this in a message of condolence at the death of Gaffar Chowdhury, who was also a veteran of 1952 Language Movement, a political analyst, writer and poet.

Prof Arefin, also Dhaka University former vice-chancellor, said: only penning the legendary song on Amar Ekushey can keep Gaffar Chowdhury immortal if he didn't do anything apart from writing the song which is the most widely celebrated one commemorating the Bengali Language Movement.
Until his death, veteran journalist and columnist Gaffar Chowdhury served the nation by providing information service with his strong, courageous and objective opinion on different issues of Bangladesh which is a big contribution to the country's arena of journalism, he mentioned.
He hoped Chowdhury's columns, articles and reports will be presented as textbooks to journalism students of different universities as an endless communication can be forged between the veteran journalist and the new generation.
"Though it is very difficult to become a bold, devoted and objective journalist like Gaffar Chowdhury, I hope the new generation will engage themselves in this difficult task to serve the nation," said Prof Arefin, also chairman of the board of directors of Bangladesh Sangbad Sangstha.
Gaffar Chowdhury's death is an irreparable loss to the nation in true sense of the term and this loss can never be filled, he said, adding that his demise is a departure of a banyan tree of the country's arena of journalism, the educationist said.
"In socio-economic contexts, Gaffar Chowdhury always wrote objective columns having required directions to drive the nation from darkness to light. We will be deprived of these columns now," he said.
"We saw how he kept the people energized and optimistic through his objective columns when the nation was in darkness during the Pakistan period as well as post-1975 period after the assassination of Bangabandhu," he said.
Noting Gaffar Chowdhury was a journalist from head to toe, he said Chowdhury never went beyond the basic characteristic of journalism objectivity while writing columns, editorials or op-eds.
In his write-ups, Chowdhury always gave true information in very easy language showing his courage without caring about reactions of anybody and described many tough issues in easy language.
He recalled when BNP-Jamaat alliance came to power in 2001, a gloomy situation was created and minority community people had to face repression.
At that period, Gaffar Chowdhury's columns gave inspiration to the nation that Bangladesh would overcome the situation in future, he mentioned.
Even when Awami League came to power through 2008 general elections, he presented overall issues through his columns recommending how the government should be run for the welfare of the people, he said.
Prof Arefin prayed for eternal peace of the departed soul and conveyed deep sympathy to bereaved family.
Abdul Gaffar Chowdhury passed away this morning at a hospital in London at 88.