India resumes Bangladesh Youth Delegation prog after 2 years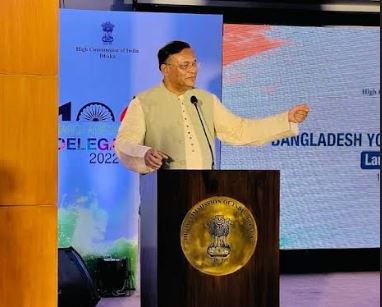 DHAKA, May 15, 2022 (BSS) - India today resumed the Bangladesh Delegation Programme 2022 after interruptions of two years due to Covid-19 pandemic.
Information and Broadcasting Minister Dr Hasan Mahmud and Indian High Commissioner Vikram Kumar Doraiswami jointly launched the programme at the Indian High Commission which will be more inclusive one.
This International Youth Exchange Programme is part of a MoU signed between Ministry of Youth Affairs and Sports of the Government of Republic of India and Ministry of Youth and Sports of the Government of the People's Republic of Bangladesh on Cooperation in Youth Matters.
Hundred young leaders from various walks of life will be selected from Bangladesh, for a hosted visit to India to travel economic, technological, industrial, cultural and historical places of interest.
An open and inclusive selection process will be conducted by the High Commission of India through interviews across all eight Divisions of Bangladesh, to ensure diversity and selection of the best talent from across various segments of the society.
Distinguished alumni of previous BYDs will be associated with the selection process
To apply, candidates may visit the website of High Commission of India, Dhaka [https://www.hcidhaka.gov.in].
As part of their applications, candidates would have to fill in their CVs and share a link to a special short Facebook video that they must make.
The Facebook video - not exceeding 120 seconds - is an opportunity for each candidate to introduce themselves and express why they should be selected for the programme, etc.
More details can be found at @BangladeshDelegationToIndia Facebook Page https://www.facebook.com/BangladeshYouthDelegationToIndia.
The Launch Event was attended by nearly a hundred Bangladesh Youth Delegation Alumni and other Youth Icons from Bangladesh.
Several Bangladesh Youth Delegation Alumni helped organize and perform at the event, making it a very special, uniquely Bangladesh Youth Delegation product.