Buddha Purnima celebrated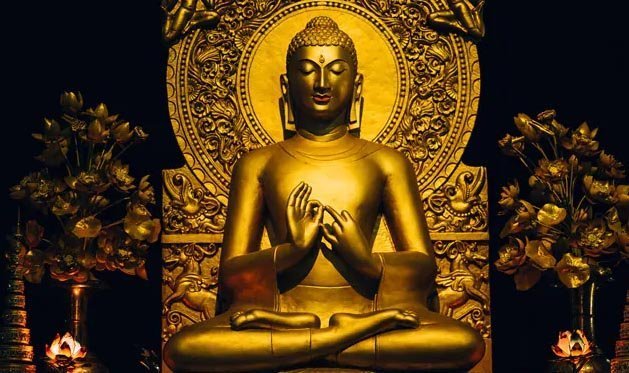 DHAKA, May 15, 2022 (BSS) - Buddha Purnima, the biggest religious festival of the Buddhists, was celebrated today across the country with due religious fervor and zeal.
Like elsewhere in the world, the Buddhists in Bangladesh, chalked out different programmes, including colorful processions, puja, sanghadan, discussions and cultural functions, to mark the day.
Lord Buddha was born on this day of full moon in 563 BC, attained enlightenment and passed away on the same day.
Marking the day, Buddhist devotees offered various gift items, including fruits, flowers and candles, to statues of Lord Buddha throughout the day.
On the occasion of the Buddha Purnima, President M Abdul Hamid and Prime Minister Sheikh Hasina issued separate messages and greeted the members of the Buddhists as well as the countrymen.
Leaders of different political and socio-cultural organisations also greeted the Buddhists on the occasion of Buddha Purnima.
The celebrations usually herald with lighting of lamps and hoisting of the national and religious flags atop all monasteries and chanting of sacred verses from the Tripitaka.
Marking the day, Bangladesh Buddhist Federation arranged a daylong programme at the International Buddhist Monastery at Merul Badda in the city while Dharmarajik Buddha Mohabihar at Kamalapur celebrated the day through various programmes.
Besides, the Purnima was also celebrated in the Buddhist populated regions of Chattogram, Chattogram hill tract, Cumilla, Cox's Bazar and Patuakhali in a befitting manner.
Prayer meets, sermons on the life of Gautam Buddha, religious discourse, continuous recitation of Buddhist scriptures, group meditation, processions and worships of the statue of Buddha were highlighted in the day-long programmes.
The Purnima was celebrated in the port city including Nandankanan Buddhist temple, Katalganj Nabapandit Vihar, Mugholtuli Shakymuni Shawshan Vihar at Agrabad, Purnachar International Buddhists Monasteries at Devpahar, Sarbajanina Bouddha Vihar at Momin road and Biswamoitry Buddha Vihar at Agrabad.
On the occasion, national and regional dailies published different articles while Bangladesh Betar, Bangladesh Television (BTV) and private TV channels broadcast special programmes highlighting the significance of the day.
The day was a public holiday.