Bumper summer vegetable output expected in Rangpur region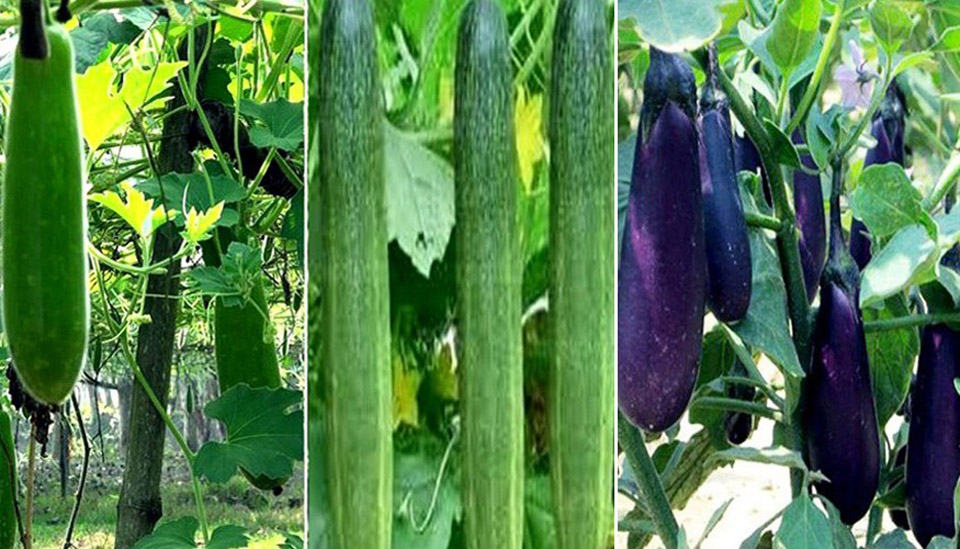 RANGPUR, May 13, 2022 (BSS) - Farmers are expecting a bumper output of summer vegetables as its farming continues alongside harvest of early varieties during this Kharif-1 season in Rangpur agriculture region.

"In the meantime, early varieties of summer vegetables have already appeared amply in local markets with excellent prices making farmers happy," Additional Director of DAE for Rangpur region Agriculturist Md. Emdad Hossain Sheikh told BSS.

The DAE has fixed a target of producing five lakh 94 thousand and 380 tonnes of summer vegetables from 31,395 hectares of land for all five districts in the region during the current Kharif-1 season.

Farmers have so far cultivated summer vegetables on 25,040 hectares of land or 79.76 percent against the targeted land area by Thursday as the farming process still continues across the region.

"After getting repeated bumper productions with lucrative prices, farmers are cultivating vegetables on more land areas and many of them have achieved self-reliance," Hossain said.

Deputy Director of the DAE for Rangpur Agriculturist Md. Obaidur Rahman Mandal said most varieties of summer vegetables have already appeared in local markets following cultivation of early varieties adopting newer cropping patterns.

The DAE, Bangladesh Agricultural Development Corporation, Bangladesh Agricultural Research Institute and other organisations are providing seeds and technologies to farmers to make the intensive summer vegetable cultivation program a success.

"Besides, different banks, including Rajshahi Krishi Unnayan Bank and NGOs are disbursing agriculture and other easy-term loans to farmers to make the massive winter vegetable farming program successful," Mandal said.

Senior Coordinator (Agriculture and Environment) of RDRS Bangladesh Agriculturist Mamunur Rashid said hundreds of farmers have achieved self-reliance through farming vegetables on crop fields, homesteads and char areas in the last 13 years.

Talkiing to BSS, farmers Afzal Hossain, Dulal Kumar Roy, Solaiman Ali, Mohidul Islam and Azgar Ali of different villages in Rangpur Sadar upazila expressed pleasure over superb output of early varieties of summer vegetables and fair prices.

Similarly, farmers Raihanul Alam, Mofizar Rahman, Liyakat Ali and Badiul Alam of different villages in Badarganj upazila of Rangpur said they are also expecting a bumper production of summer vegetables during this Kharif-1 season.

Vegetable trader Hafizur Rahman at Rangpur City Bazar said farmers are currently selling different varieties of summer vegetables at rates between Taka 20 and Taka 30 per kilogram to the middlemen after harvesting on their crop fields.

"The retail prices are, however, higher by Taka 10 to Taka 15 per kilogram in local markets as some vegetables are being perished during transportation, preservation and the whole marketing process," Hafizur said.

Vegetable retailer Fazlur Rahman at Keranipara Kitchen market in Rangpur city said most varieties of summer vegetables are currently being sold to consumers at rates between Taka 25 and Taka 40 per kilogram.

President of Rangpur Chamber Mostofa Sohrab Chowdhury Titu stressed on setting up a sufficient number of agro-based industries, preservation and processing facilities alongside enhancing export to make vegetable farming more profitable to farmers.