BTRC sells 190Mhz spectrum at Tk 106.46bn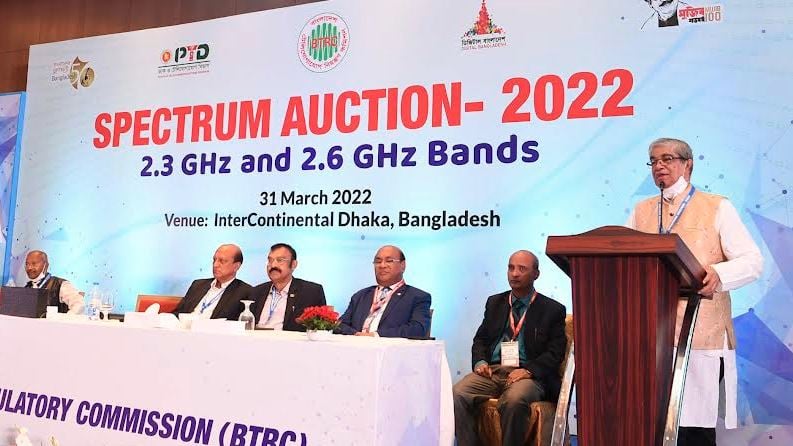 DHAKA, March 31, 2022 (BSS) - Bangladesh Telecommunication Regulatory Commission (BTRC) today sold out 190MHz of spectrum for 15 years among four mobile phone operators.
The latest volume of 5G spectrum auction in 2300MHz and 2600 MHz bands has earned Taka 106.46 billion revenue for the government held in a city hotel.
The BTRC has invited a total of 220 MHz of 2300 GHz and 2600 GHz bands.
As per the auction, the country's largest network operator Grameenphone has been awarded 60 MHz of the 2600 GHz band spectrum for 15 years period that stands its total spectrum 107.40 MHz now.
The second largest operator Robi also secured additional 60 MHz of 2600GHz spectrum band also stands it spectrum to 104 MHz now.
Banglalink obtained 40 MHz of 2300 GHz band spectrum that enhanced its spectrum capacity to 80MHz.
The state-owned Teletalk also participated in the country's latest spectrum auction with awarding 30 MHz of spectrum. Now, it's spectrum capacity of the Teletalk reaches to 55.20MHz.
Significantly, the four MNO's spectrum capacity reached to 346.6MHz after securing addition 190MHz spectrum from two bands on Thursday.
Posts and Telecommunications Minister Mustafa Jabbar attended the auction as chief guest while posts and telecommunications division secretary Md Khalilur Rahman as special guest.
Mustafa Jabbar at the function said Bangladesh will remember the historic 5G spectrum auction during the month of Independence.
"I have received complaints from subscribers about standard and quality of telecom services….I hope the additional spectrums will help to improve the services of quality," he said.
He also called upon the BTRC for allowing the operators for auctioning of the unsold 30MHz spectrum.
The minister also said the revenue received from the auction will contribute to the national development.
At the function, Md Khalilur Rahman has called upon the MNO's for ensuring quality of services and thanked for participating in the auction.
BTRC chairman Sham Sundar said the auction held with free and fair manner. "The allocated spectrum will ensure quality of services," he said.
Yasir Azman, CEO of Grameenphone, said, "Through this auction, the government has taken another step towards realising Digital Bangladesh. This also showed the government's dedication to providing quality connectivity and was a timely spectrum award as Grameenphone celebrates 25 years of connecting people to possibilities in Bangladesh."
"As we roll out the new spectrum, customers will enjoy improved 4G experience", he said.
Erik Aas, Chief Executive Officer, Banglalink, said, "It is an important step for the industry, as the availability of more spectrum will result in better internet speed and quality digital services for citizens of Bangladesh. In keeping with our objective - 4G for all, not 5G for a few, we intend to utilize the new spectrum primarily for 4G in next 2-3 years."
The MNO's will pay 10 percent of spectrum acquisition cost by July 1, 2022 and will also require to rollout spectrum confirm from commission by January 1, 2023.