Jibanananda festival enthralls literature-loving audience in UK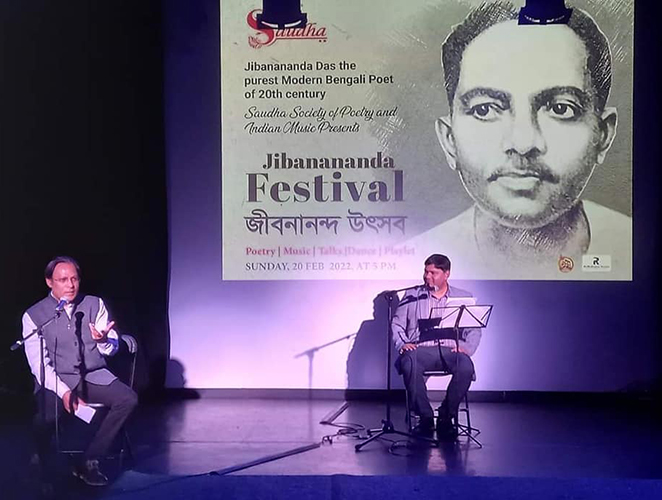 DHAKA, Feb 24, 2022 (BSS) - The Jibanananda festival featured the works of one of the most influential Bengali poets of the 20th century Jibanananda Das in the Indian sub-continent, enchanting a houseful of audience from a diverse cultural background of East London on Sunday last.
The festival was celebrated at Rich Mix of East London in the United Kingdom (UK) hosted by Saudha Society of Poetry and Indian Music, a leading South Asian art organisation in the UK.
The presence of literature-loving audiences from both Asain and non-Asian cultural heritage also graced the studio hall function of Rich Mix amid adverse stormy weather and a yellow weather alert, a release said received here today.
A Danish young painter Sofia Hill, among one of the audiences, said, "It's an amazing evening. I am absolutely hypnotised by the diverse presentation of works of a Bengali poet of the last century".
"I loved the idea of the playlet called Bonolota Sen - the search for beauty that is based on Jibanananda's poem but I loved equally the other things, too - eye-opening talks, photographic interpretation of poetry, other form of visual interpretation through dance and essentially the meditative recitation of Jibanananda's poetry," she said.
She further added, "I am glad I managed to join this extremely high quality presentation of spoken-words. I had an experience of Saudha's work before and therefore, I am so happy because I didn't miss it"
David Lee Morgan, a BBC slam champion poet and an audience there, said, " Beautiful and exciting presentation and I loved the Robert Wilson style theatrical presentation of Jibananada's haunting poetry."
Prominent Indian classical singer Chiranjeeb Chakraborty said, "It was one and three hours of absolutely mesmeric art works presented one after another. Saudha was absolutely commendable for creating a houseful of audience in such a stormy sunday evening"
The speakers included Professor of English literature, poet Oz Hardwick, poet and playwright John Farndon, poet and translator Stephen Watts and British Argentine poet Gaby Sambuccetti, highlighting the extraordinary style and unique poetics of Jibanananda.
Prominent Bengali writer and professor of Medical anthropology at Sussex University Shahaduz Zaman read a few excerpts from his own novel on the biography of the poet.
Jibanananda's visceral poetry was recited by a few impassioned spoken-word artists - Poppy Shahnaz, Jasmin Chowdhury, Shamsuzzoha, Tanjina Nur E Siddique, Begum Shaila Simi Nur, Manash Chowdhury and Soma Das.
Classical dancer Monidipa Seal rendered a stunning visual interpretation of a couple of poems.
An award-winning photographer Pablo Khaled brought a vivid photographic interpretation of a few popular Jibananand's poems.
Directed by Ahmed Kaysher, a haunting presentation of the playlet based on a popular poem called Bonolota Sen was also staged.
The director of Saudha Ahmed Kaysher said, "A packed house show with such a good mix of audience in such bad weather actually brought a hope for spoken-word events after the vacuum of Covid. I am delighted because the audiences loved it and still now they are singing the praises of it particularly on social media."