Today's startups to lead country's ICT industries in future: Palak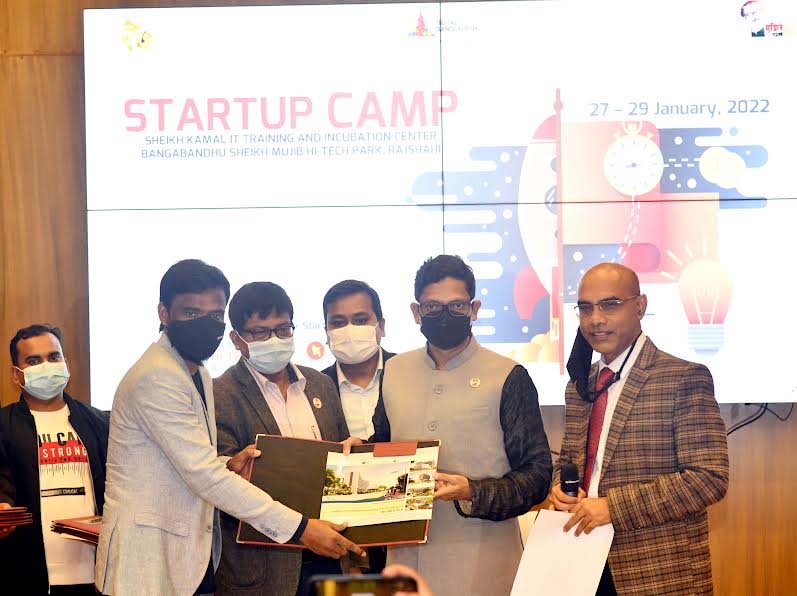 RAJSHAHI, Jan 27, 2022 (BSS) - State Minister for ICT Zunaid Ahmed Palak has said today's startups will lead the ICT industries in Bangladesh's to the fourth industrial revolution.

The ICT division of the ministry has been extending all sorts of requisite support to the country's startups, he said adding that we are expecting to generate more IT institutions from the present startups to ensure need-based mentoring and funding to them.
The State Minister came up with the observation while inaugurating a three-day startup camp at Sheikh Kamal IT Training and Incubation Centre of Bangabandhu Sheikh Mujib Hi-tech Park here today as chief guest.
"We have been creating working space, logistics and utility support to the startups to expand their IT related business," Palak said.
Some 30 startups who were given allotments are taking part in the three-day mentoring training being conducted by local and international mentors.
He told the ceremony that at least one floor in all the installations established by Bangladesh Hi-tech Park Authority (BHTPA) throughout the country was given to the startups each free of cost during last one year.

In addition to the co-working space, logistic and utility support, steps have been taken to provide one-year in-house mentoring for startup to a total of 151 startups.
The State Minister also hinted that the government is ready to facilitate impact innovation on localization of search engines, social media, communications and streaming app to secure the public data on the internet.
He said the life and works of Bangabandhu have to be upheld among youths as they can develop the future of the country with an indomitable mind to innovate ideas for social changes.
Palak also said around 80 percent infrastructure development works of the under-construction Bangabandhu Sheikh Mujib High-tech Park here has already been completed creating a high hope among all concerned in terms of generating job opportunities.

The park is being built on around 31 acres of land in Nabinagar area adjacent to Rajshahi metropolis aimed at establishing knowledge-based IT industries together with ensuring an area-based development.

BHTPA is implementing the Taka 335.51-crore project with the main thrust of creating scopes for the new IT entrepreneurs and employment generation.
Construction works of 'Sheikh Kamal IT Incubation and Training Centre' inside the park compound has already been completed and a total of 10 IT farms have already started working there after taking space.
Besides, work on the 'Sajeeb Wazed Joy Silicon Tower' is at the final stage.

Employment opportunities for around 14,000 youths both male and female will be created after successful completion of the project by end of this year. On the occasion, six companies were given space allotments.
BHTPA Managing Director Dr Bikarna Kumar Ghosh and Project Director of Bangabandhu Sheikh Mujib Hi-tech Park AKM Fazlul Haque also spoke.