Over 15cr people get COVID vaccines: Lawmakers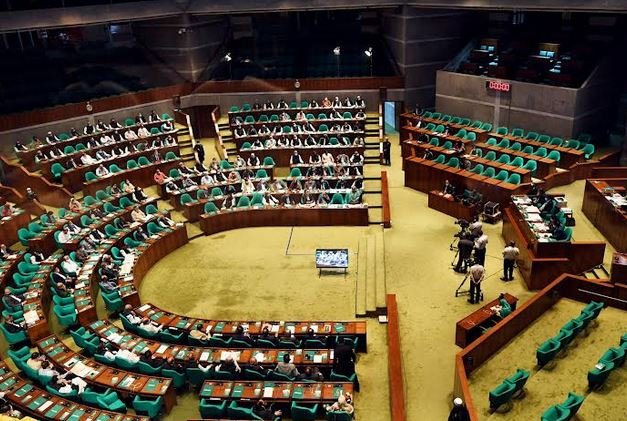 DHAKA, Jan 26, 2022 (BSS)- Lawmakers in the Jatiya Sangsad today said Bangladesh is working to overcome the corona pandemic plight and more than 15 crore people have already been inoculated with covid vaccines.
"Bangladesh is remarkably progressing in tackling the pandemic plight for the last two years since March 2020 under the leadership of Prime Minister Sheikh Hasina," said treasury bench lawmaker Biren Sikder of Magura-2.
The ruling party lawmaker made this remark while participating in the general discussion on a thanksgiving motion on the President's speech in the House.
Chief Whip Noor-E-Alam Chowdhury moved the thanksgiving motion in the House while treasury bench lawmaker Shamsul Huq Tuku seconded it with Speaker Dr ShirinSharmin Chaudhury in the chair.
Regarding vaccination to tackle the pandemic, Ahsanul Islam Titu of Tangail-6 said according to the latest record, a total of 9,40,15,291 people have already been inoculated with first dose and 5, 87,43,253 got second dose till Monday.
Besides, 0.7 percent or more than 11 lakh people have already got the booster dose and it is increasing, said the ruling party lawmaker.
Even the government has already established 153 COVID-19 dedicated hospitals and a total number of 28 incentives packages have already been declared for the welfare of the people, said another treasury bench lawmaker and former health minister AFM RuhulHuq of Satkhira-3.
"We hope that Bangladesh will be able to manufacture corona vaccines tentatively from June-July period of this year", said the former health and family welfare minister.
Participating in the discussion, ruling party lawmaker Shah E Alam of Barishal-2 said that now the country is facing the third wave of the corona pandemic, adding that befitting initiatives and 31-point instructions initiated by the government have made the country able to face the ongoing pandemic.
Describing the government's success in facing pandemic, Bangladesh Workers Party president Rashed Khan Menon said, "We are in advance position compared to India and Nepal in tackling corona pandemic, but our position is not better than Afghanistan in case of vaccination."
Referring to the government's success in the economy lauded by President M Abdul Hamid in his maiden speech on January 16, treasury bench lawmakers said the president in his speech mentioned that Bangladesh has achieved remarkable success in various sectors and the country will be a prosperous one by 2041.
About the success and achievement during the present government, they said the country witnessed a remarkable development in all sectors, including education, railways and agriculture, which have already been followed by other nations.
The lawmakers including M Anisur Rahman of Bogura-5, Khadizatul Anwar of women seat-6, Enamul Huq of Rajshahi-4, Shamima Akhter Khanom of women seat-21, SaifuzzamanShikhor of Magura-1,Ahsanul Islam Titu of Tangail-6, Dr Samil Uddin Ahemd Shimul of Chapai Nawabganj-1 Jatiyaparty lawmakers Barrister Shamim Haider Patwary of Gaibandha-1,Ahsan Adilur Rahman of Nilphamari-4, FakhrulImam of Mymensingh-8 and Jatiya Samajtantrik DalPresident Hasanul Huq Inu of Khustia-2, , also took part in the discussion.
The lawmakers also thanked the president for giving a timely speech highlighting the success stories of the government and guiding the nation towards peace, progress and prosperity.
Earlier, they paid a rich tribute to Father of the Nation Bangabandhu Sheikh Mujibur Rahman for his contribution to establishing an independent Bangladesh.