Rangpur records highest ever 44.88pc Covid-19 positivity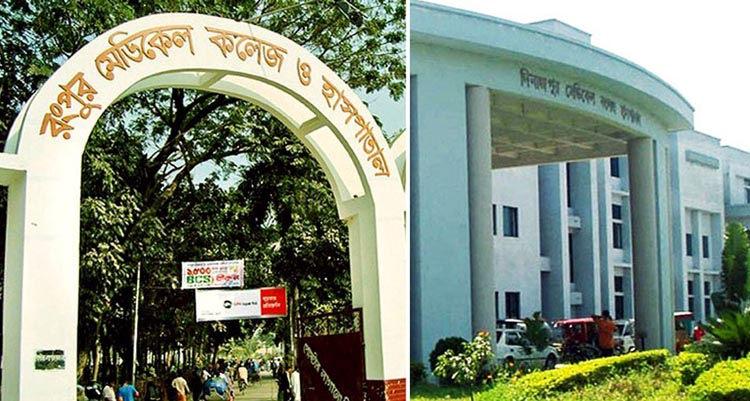 RANGPUR, Jan 26, 2022 (BSS) - Rangpur division recorded the highest ever
44.88 percent Covid-19 positivity rate on Tuesday since the outbreak of the
pandemic amid a faster community spread of the lethal virus.
Health officials said 359 fresh Covid-19 cases, the highest number in a
day in six months, were diagnosed on Tuesday after testing 800 samples at
44.88 percent positivity rate in the division.
"With the diagnosis of 359 new cases, the total number of Covid-19
patients climbed to 57,535 in Rangpur division," Divisional Director (Health)
Dr. Abu Md. Zakirul Islam told BSS today. The number of positive cases
continues rising rapidly in the last two weeks amid a declining trend in the
recovery rate of the infected patients.
On Tuesday, Rangpur recorded 45.50 percent Covid-19 positivity,
Panchagarh 30.20 percent, Nilphamari 43.40 percent, Lalmonirhat 38.90
percent, Kurigram 40.70 percent, Thakurgaon 46.20 percent, Dinajpur 51.50
percent and Gaibandha 45.60 percent.
The district-wise break up of total 57,535 patients include 13,007 of
Rangpur, 3,929 Panchagarh, 4,659 of Nilphamari, 2,848 of Lalmonirhat, 4,700
of Kurigram, 7,906 of Thakurgaon, 15,487 of Dinajpur and 4,999 of Gaibandha
in the division.
"Meanwhile, the number of Covid-19 casualties remained steady at 1,253
as no more infected patients died on Tuesday in the division where the
average casualty rate stands at 2.18 percent," Dr. Islam said.
The district-wise break up of the 1,253 fatalities stands at 293 in
Rangpur, 81 in Panchagarh, 89 in Nilphamari, 69 each in Lalmonirhat and
Kurigram, 256 in Thakurgaon, 333 in Dinajpur and 63 in Gaibandha.
"Since the outbreak of the pandemic, a total of 3,14,825 collected
samples were tested till Tuesday, and of them, 57,535 were found Covid-19
positive with an average positivity rate of 18.28 percent in the division,"
Dr Islam said.
Meanwhile, the number of healed Covid-19 patients reached 54,661 with
the recovery of 29 more patients on Tuesday in the division. The average
recovery rate stands at 95 percent.
"The average recovery rate of Covid-19 patients reached 97.12 percent
on January 14 last in the division and the same dropped by 2.12 percent to 75
percent in only 11 days on Tuesday," Dr. Islam said.
The 54,661 recovered patients include 12,323 of Rangpur, 3,769
Panchagarh, 4,398 Nilphamari, 2,664 Lalmonirhat, 4,537 Kurigram, 7,491
Thakurgaon, 14,640 in Dinajpur and 4,839 Gaibandha districts in the division.
Among the 57,535 patients, 71 are under treatment at isolation units,
including 16 critical patients at ICU beds and nine at High Dependency Unit
beds, after recovery of 54,661 patients and 1,253 deaths while 1,253 are
remaining in home isolation.
"In the meantime, the number of citizens who got the first dose of the
Covid-19 vaccine rose to 1,05,39,487, and among them, 63,00,182 got the
second dose and 1,38,2058 got the booster dose of the jabs till Tuesday in
the division," Dr Islam added.
Principal of Rangpur Medical College Professor Dr. Bimal Chandra Roy
urged common people to sincerely abide by the health directives to contain
further community spread of the Covid-19 virus including its Omicron variant.