Victory Day celebration ends at SBMJ in Rangpur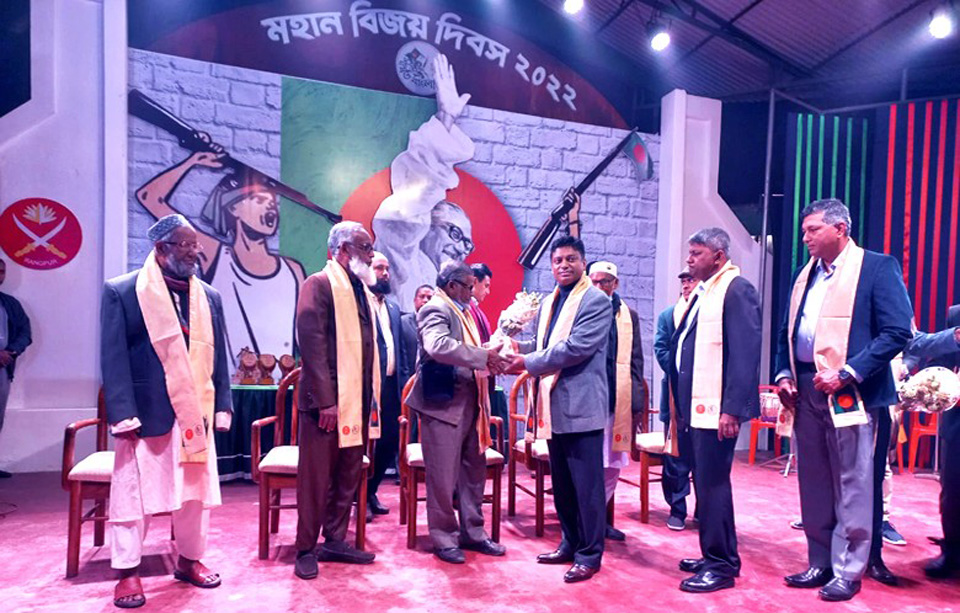 RANGPUR, Dec 17, 2022 (BSS) - The three-day celebrations of the Great Victory Day-2022 with colorful programs ended at 'Swasswato Bangla Muktijoddha Jadughar (SBMJ) premises in the city on Friday night, a press release said.

Under patronization of Rangpur area headquarters of Bangladesh Army, Cantonment Public School and College, Rangpur managed the three-day celebrations of the Victory Day- 2022 from December 14 to December 16.

The celebrations began with colorful inaugural day programs performed by students from different educational institutions on December 14 followed by cultural functions on December 15 last.

On December 16, Rangpur Area Commander and General Officer Commanding (GOC) of 66 Infantry Division Major General Md. Faizur Rahman, bsp, sgp, ndc, afwc, psc, attended the concluding ceremony as the chief guest.

Five invited heroic freedom fighters, best sons of the soil, high-ranking military and civil officials and invited guests were present.

The concluding day celebration began with rendering of the national anthem in chorus by members of the Victory Day Observance Committee followed by selected colorful programs in the closing ceremony.

The chief guest honoured five invited heroic freedom fighters by handing over floral wreaths, crests and memorial gifts to them amid applause from the huge audience.

The awardees are: heroic freedom fighter Shushanto Chandra Khan (retired additional secretary), heroic freedom fighter Abdul Hakim, heroic freedom fighter Md. Mokhlesur Rahman, heroic freedom fighter Md. Golam Rabbani and heroic freedom fighter Md. Azizul Islam Mollah (former upazila chairman).

He also distributed prizes among winners of different competitions, arranged marking the Victory day-2022, and delivered his concluding speech.

The chief guest called for infusing the spirit of the Great War of Liberation among young generations to educate and bring them up with patriotic zeal.

Later, selected artistes of different literary and cultural organisations enthralled hundreds of audience by rendering colorful performances to end the three-day celebrations.