PM witnesses parade at National Parade Square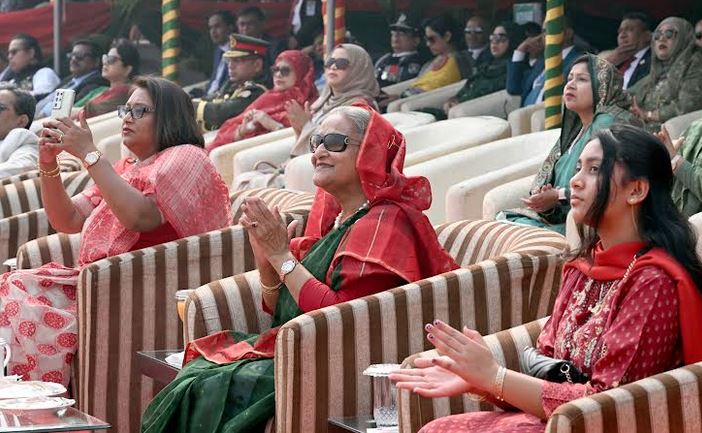 DHAKA, Dec 16, 2022 (BSS) - Prime Minister Sheikh Hasina today joined and witnessed the victory day parade when President Abdul Hamid took salutes and inspected the parade as the chief guest.
The victory day parade was held at the national parade square, marking the 52nd Victory Day.
The premier enjoyed the attractive march past, spectacular fly-past and aerobatic display there.
On the arrival of the premier at the parade ground at 10.22am, she was escorted by a ceremonial cavalcade, a motorcade and military police, while advancing towards the saluting dais.
Liberation war affairs minister, chiefs of the three services, principal staff officer of the armed forces division and liberation war affairs secretary received the Prime Minister.
President of National Advisory Committee on Autism in Bangladesh
and Prime Minister's daughter Saima Wazed and premier's grand-daughter Samaa Hossain also witnessed the parade.
The Nation is celebrating its 52nd Victory Day with elaborate programmes, paying homage to the martyrs who laid down their lives for the country during the War of Liberation.
On this glorious day in 1971, Bangladesh was liberated as an independent country after the Pakistani occupation forces surrendered following a bloody nine-month war.
The people of Bangladesh at home and abroad are celebrating the Victory Day, the most joyous day when the country was born at the cost of the supreme sacrifice of three million martyrs and the honour of nearly half a million women.