All set to celebrate Victory Day tomorrow in Rajshahi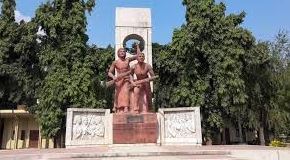 RAJSHAHI, Dec 15, 2022 (BSS) - All sorts of preparation have been completed to celebrate Victory Day here tomorrow in a befitting manner.

The Rajshahi City Corporation (RCC), district and divisional administrations and different organizations have chalked out elaborate programmes to celebrate the day.

The programmes include hoisting of the national flags atop all public and private buildings, a 31-gun salute at district police lines, placing of wreaths at the monuments erected to pay homage to martyrs, decorating city streets with national flags and colorful posters and illumination of all public buildings, roads and street islands in the evening.
The gallantry award winning and all other valiant freedom fighters will be accorded reception at Shilpakala Academy.

RCC Mayor AHM Khairuzzaman Liton will open daylong programmes by placing wreaths at Bhuban Mohan Park Shaheed Minar early in the morning tomorrow.

Commissioner of Rajshahi Division GSM Zafarullah will place floral wreaths at the collectorate building Shaheed Minar. Subsequently, he will raise the national flag formally at Liberation War Memorial Stadium.
A march past along with physical displays by police, Ansar-VDP, fire service, BNCC, scouts, children and students on the local stadium, victory rally, screening of documentary films on the War of Liberation, friendly football match and sports competitions and cultural functions will also be held to mark the day.

Special prayers will be held at mosques, temples, churches, pagodas and other places of worship.

Improved diet would be served to inmates of hospitals, jails, orphanages and vagabond centers in the district on the occasion.
To mark the day, patriotic song competition, discussion meeting, prize distribution and cultural programmes will be held at Shilpakala Academy and Shishu Academy.

Special prayers will be held at mosques, temples, churches, pagodas and other places of worship.

Meanwhile, educational institutions including Rajshahi University (RU), Rajshahi University of Engineering and Technology (RUET), Rajshahi Medical University and Rajshahi Medical College (RMC) have also taken elaborate programmes to celebrate the Victory Day.