Taka 2.88-cr Govt cheque distributes among 29 KU researchers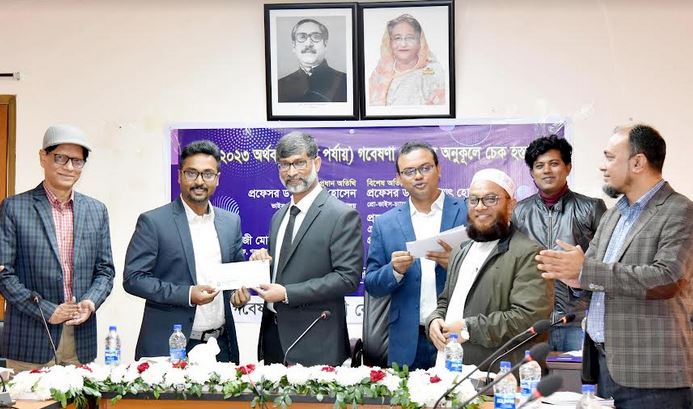 KHULNA, Jan 23, 2023 (BSS) -Vice-Chancellor (VC) of Khulna University Professor Dr Mahmud Hossain today distributed government cheques amounting Taka 2.88 crore among 29 researchers.
The VC distributed the cheques at the conference room of Shaheed Tajuddin Ahmed building at the university campus through a ceremony organized by KU Research and Innovation center.
The government allocated Taka 2,88, 05000 (two crore 88 lakh and five thousand) for the KU research project (second phase) for the 2022-2023 fiscal years.
During the distribution ceremony, KU VC Professor Dr Mahmud Hossain said, that present government led by Prime minister Sheikh Hasina's thought is to take Bangladesh towards development roadmap.
"The desire of the Prime Minister is to play a role in building a smart Bangladesh through making skilled manpower," he said.
"It is the responsibility of the universities to create skilled manpower for building a smart Bangladesh," VC said.
Turning the government allocated money for research are the contribution from people tax, the VC urged to ensure accountability and transparency of people money, saying KU has taken initiative for enhance quality research.
He also urged the researchers to create opportunities for collecting international fund considering shortage of our country's fund.
Chaired by the Director of Research and Innovation Center Dr Md Kazi Didarul Islam, KU Treasurer Professor Amit Roy Chowdhury and Acting Registrar Professor Khan Golam Quddus, addressed the ceremony as special guests.
Joint Director of the Center Prof Dr Laskar Ershad Ali delivered the welcome speech while Professor Dr Md Rezaul Haque of Chemistry Discipline, who received the cheques on behalf of the researchers, addressed, among others.