BNP holds meetings with microscopic parties: Hasan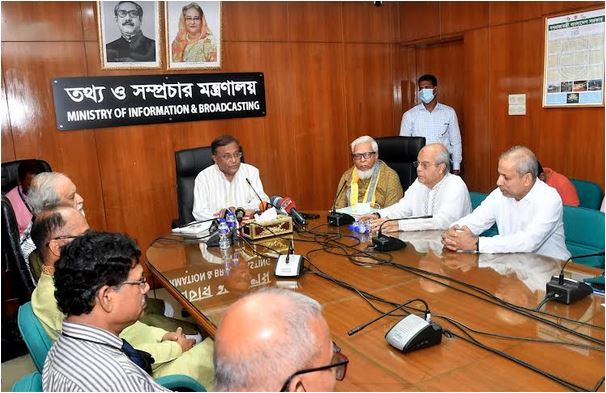 DHAKA, Oct 3, 2022 (BSS) - Information and Broadcasting Minister Dr Hasan Mahmud today said BNP is holding meetings with microscopic political parties in the name of dialogue.
"BNP held dialogues with all political parties in 2018 also and they had formed an alliance known as 'Jatiya Oikkya' (National Unity). The result of the alliance is that BNP got only five seats. There were rightist, leftist, extreme rightist and extreme leftist in that alliance," he said.
The minister said, "Currently BNP is holding meetings with microscopic parties. They held meeting with Kalyan Party yesterday. People laugh at seeing when BNP tells that they would create a greater unity with microscopic parties. Kalyan Party has a chairman, but I don't know who is its secretary general. I also don't know whether Mirza Fakhrul Islam Alamgir knows or not. Such meeting is nothing but publishing news."
Hasan stated these while replying to a query of reporters at the meeting room of his ministry at secretariat in the capital.
Earlier, Bangladesh Press Council (BPC) Chairman Justice Nizamul Haque Nasim handed over the annual report 2021 to the minister. BPC members Shafiul Islam Mohiuddin, MP, Bangla Academy director general poet Nurul Huda, the daily Observer editor Iqbal Sobhan Chowdhury, the daily Jugantar editor Saiful Alam, the daily Jatiya Arthaniti editor MG Kibria Chowdhury, BFUJ office secretary Sebika Rani and BPC secretary Shah Alam, among others, were present.
Replying to another query, Hasan said BNP's aim is to create conflict across the country like 2013, 2014, 2015 and 2018. They are carrying out attacks on police and innocent people, he said.
Even, he said, some activists of BNP were killed through bricks attacks by them. But, they are trying to put the responsibility on the government, said Hasan, also Awami League joint general secretary.
He said the leaders and activists of Awami League have been asked to remain aware while police is also tackling the ill efforts of creating anarchy with restraint.
He said the countrymen would resist them like before if BNP continues their violence activities.
Replying to another query over a comment of the US ambassador to Bangladesh on election issue, the minister said this is nothing new. The other previous US ambassadors were talked about this issue (polls), he added.
He said, "We are also agreed with them and we want to a free, fair and transparent election. And it is not only the responsibility of the government, but also the responsibility of all political parties."
He hoped that they (political parties) will cooperate with holding the election in a free, fair and transparent manner under the Election Commission.
The minister said the foreign ambassadors can give advices, but cannot interrupt internal affairs. At the same time it should be remembered that diplomatic norms are not violated.
In the function, Hasan said the BPC was established by Bangabandhu with the aim of solving any dispute between the readers and the newspapers. It was formed as quasi-judicial body and the BPC has played a pivotal role in this regard, he added,
The minister said the BPC gave a draft of proposal to make its law contemporary after discussing with different organisations of journalists and other stakeholders for long. The draft is now at Law Ministry for vetting through Cabinet, said Hasan.
He said a vast revolution has taken place in the country's mass media in the last 13 to 14 years. The ministry is also taking steps against unregistered online newspaper and other newspapers which are not publishing, he added.