No alternative to Sheikh Hasina to continue dev: Hasan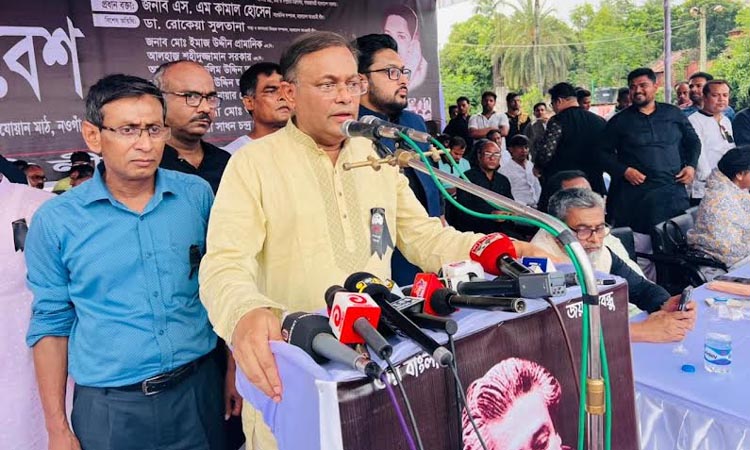 NAOGAON, Aug 30, 2022 (BSS) - Information and Broadcasting Minister Dr Hasan Mahmud today said there is no alternative to Awami League under the dynamic leadership of Prime Minister Sheikh Hasina, in conducting the state again to keep the pace of development in the country.
"An unprecedented development has taken place in the country during the current government for the farsighted leadership of Prime Minister Sheikh Hasina. And there is no alternative to Awami League under her leadership to run the state for keeping the pace of progress," he said.

The minister stated these while addressing a meeting organized by AL Naogaon district unit at Nowjoan Eidgha ground marking the National Mourning Day.

Hasan said people don't want to see BNP in power again as they killed people through patrol bombs and arson attacks. The country became champions in corruption for five consecutive times during their (BNP) regime, he added.

Food Minister Sadhan Chandra Majumder, AL Organising Secretary SM Kamal Hossain, Health Affairs Secretary Dr Rokeya Sultana, Shahiduzzaman Sarker, MP, Barrister Nizam Uddin Jalil Jan, MP, Md Salim Uddin Tarafder, MP, and Md Anowar Hossain Helal, MP, among others, addressed the meeting with AL Naogaon district unit president and former lawmaker Md Abdul Malek in the chair.

Hasan said the countrymen know the 'electric poles' (Khamba) politics of BNP. People were killed for power and fertilizer during their (BNP) period, he added.

He said the whole world is going through an adverse situation due to the Russia-Ukraine war. Even, the people of developed nations are suffering due to the crisis of power and energy, said Hasan, also AL joint general secretary.

He said the governments of those countries have urged their people to save power. It is a matter of hope that Prime Minister Sheikh Hasina has already taken steps to adjust the price of fuel through her farsighted leadership, he added.

The minister hoped that the lifestyle of people will come to normal within a few days.

He said BNP is showing crocodile tears to see the temporary suffering of people though the party has no right of it. There is no party, but, Awami League understands the people well, he added.