Bangabandhu had love for mass media: Hasan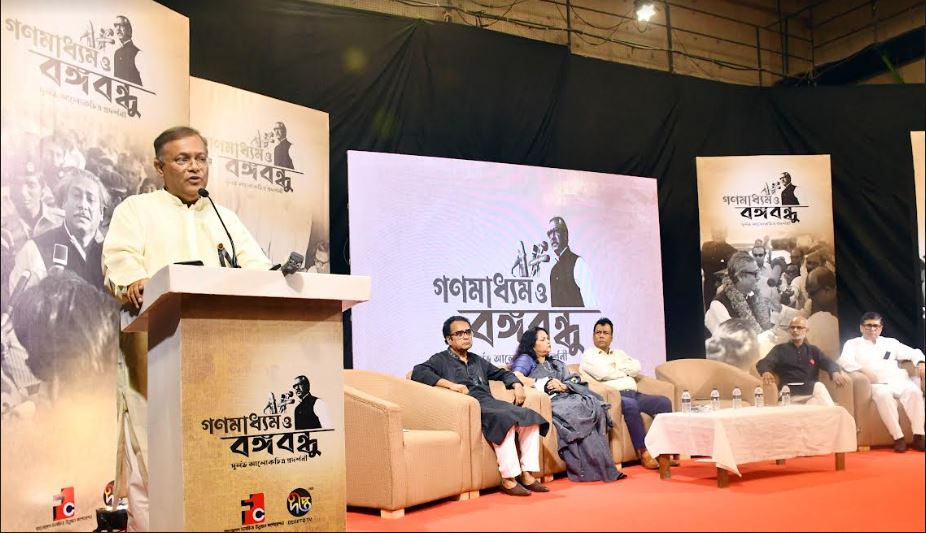 DHAKA, Aug 18, 2022 (BSS) - Information and Broadcasting Minister Dr Hasan Mahmud today said Bangabandhu had love for the mass media and the media people also loved Bangabandhu.

"Bangabandhu was media friendly and the mass media had played a pivotal role in his (Bangabandhu) long struggling life. Many talked about the decision of closing all the newspapers, except four. But the decision was temporary. And many may not know that no journalist of any newspaper was unemployed at that time. They were given jobs at different departments of the government through the information department," he said.

The minister was addressing a function of exhibition of rare photos titled 'Mass Media and Bangabandhu' and a documentary named 'Two houses of August 15' organised by Deepto TV and Bangladesh Film Development Corporation (BFDC) at BFDC auditorium here.

Hasan said Prime Minister Sheikh Hasina is also very media friendly like Bangabandhu. A revolution has been taken place in exploring the mass media during her regime and the country's private televisions have started their journey during her tenure, said Hasan, also Awami League joint general secretary.

He said the number of television is now 45 while 38 TVs are now in operation. The number of newspapers is more than 1,200, he added.


The minister said the country's mass media is enjoying more freedom than many other developing countries even from many developed nations. But, the mass media is also needed responsibility along with freedom, he added.

He said the registration of a hundred-year-old newspaper was cancelled for publishing wrong information in the United Kingdom. The executive officers of the BBC were forced to resign for broadcasting wrong information about a representative of the House of Commons, he said, adding but there is no such instance in Bangladesh.

Later, the minister visited the exhibition along with other guests.

Information and Broadcasting Secretary Md Mokbul Hossain, Father of the Nation Bangabandhu Sheikh Mujibur Rahman Memorial Museum Curator Nazrul Islam Khan, AL office secretary Barrister Biplob Barua, Chhalachithra Shilpi Samity president Elias Kanchan, Deepto TV director general Kazi Jahedul Hasan and chief executive officer Fuad Chowdhury, among others, addressed the function with BFDC director general Nuzhat Yesmin in the chair.