Hasan urges UNHRC commissioner to pay attention to Palestine, Myanmar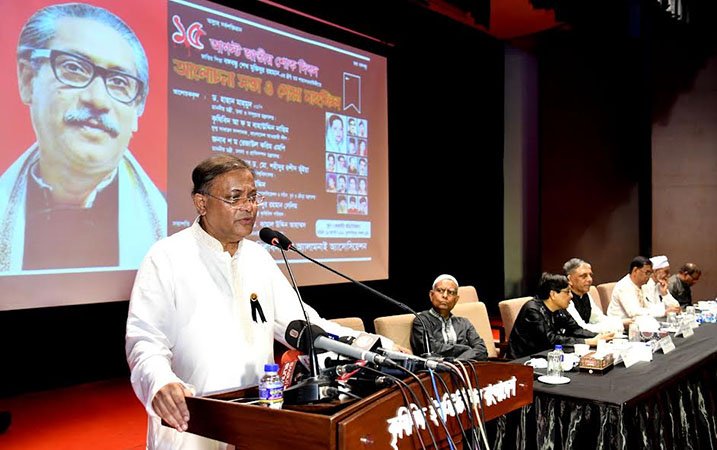 DHAKA, Aug 18, 2022 (BSS) - Information and Broadcasting Minister Dr Hasan Mahmud today said the United Nations Human Rights Council (UNHRC) should pay attention to Palestine and Myanmar and it would be better if the high commissioner of the council listened to victims of petrol bombs and arson attacks carried out in 2013, 2014 and 2015 in Bangladesh.

"Palestine children are being killed if they throw stones at Israeli soldiers. It is not enough to praise Bangladesh only after visiting Rohingya camps. The safe return of Myanmar citizens to their home of origin has to be ensured. The UN Human Rights Council should pay attention to those countries where human rights are being violated extremely," he said.

The minister was addressing a discussion organised by Sher-e-Bangla Agricultural University Alumni Association on the occasion of National Mourning Day at Krishibid Institute Auditorium in the capital.

Hasan said Zia and his party were the gross violators of human rights in Bangladesh. He (Zaiur Rahman) had enacted the indemnity ordinance to stop the trial of Bangabandhu assassination and rehabilitated the killers, he added.

He said Zia had also killed hundreds of armed forces soldiers to intact his power. And his Party- BNP and their collaborator Jamaat killed hundreds of people through patrol bombs and arson attacks from 2013 to 2015, he added.

About the comments of the UN Human Rights Commissioner Michelle Bachelet on the Digital Security Act, the minister said this law is to ensure digital security to every citizen of the country.

He said, "Those who raise questions about our law, I would like to urge them to look at this law in Australia and Singapore. The laws are stricter than ours there. "Like our laws, India and Pakistan also have similar sections in their laws which are much talked about. Framework laws have been enacted in the European Union to provide digital security. Member States have made their laws in light of that. You (UN Human Rights Commissioner) do not talk about those."

"A lot of things are said without reading or understanding the law...Yes, we are careful to ensure that this law is not misused, and we are working to ensure that no one is oppressed," said Hasan, also Awami League joint general secretary.

In the beginning of his speech, the minister paid rich tribute to Father of the Nation Bangabandhu Sheikh Mujibur Rahman and other martyrs of August 15, 1975.

He said a demand has been raised to form a commission to unmask the kingpins who were behind the brutal killings and plotted it and "I also agree with the demand."

Fisheries and Livestock Minister SM Rezaul Karim, AL joint general secretary AFM Bahauddin Nasim, SAU Vice-Chancellor Dr Shahidur Rashid Bhuiyan, SAU alumni association secretary general and also Youth and Sports Secretary Mesbah Uddin and Bangabandhu Krishibid Parishad organising secretary Dr Md Saidur Rahman Selim, among others, spoke the discussion with association president Professor Dr Kamal Uddin Ahamed in the chair.

Rezaul said Ziaur Rahman had violated the constitution and played a role as plotter in the brutal killing. Even, Zia had stopped the trial of the killing through enacting the indemnity ordinance in the parliament.

Nasim urged all to remain alert against all conspiracies.