Momen calls on foreign minister of Lao PDR in Cambodia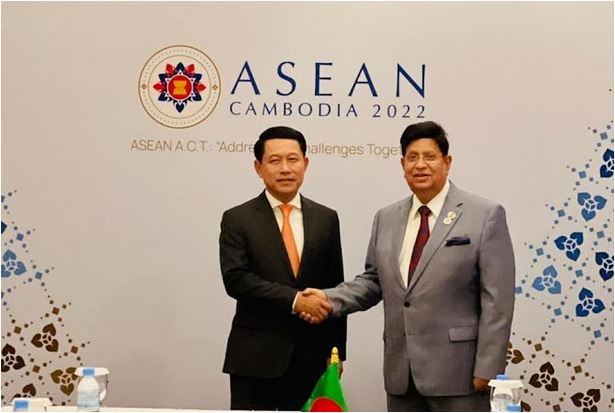 DHAKA, Aug 6, 2022 (BSS) - Foreign Minister Dr A K Abdul Momen today called on Foreign Minister of Lao PDR Saleumxay Kommasith in Cambodia.
The meeting reviewed the whole gamut of the existing excellent bilateral relations, a press release of the Ministry of Foreign Affairs said.
During the meeting, Momen invited Lao PDR to invest in different sectors, particularly in priority sectors in the Economic Zones, agriculture and ICT sectors of Bangladesh.
He proposed the regular exchange of trade delegations and trade related offers in order to create opportunities and potentials for bilateral trade and investment which is essential for both countries.
Momen urged the Foreign Minister of Lao PDR to play a more proactive role in bringing a sustainable solution to the protracted Rohingya crisis by initiating a speedy, safe and dignified repatriation of the forcibly displaced people back to their motherland, Myanmar.
He requested Lao PDR to exert its friendly influence on Myanmar to take its citizens back home.
On the other hand, appreciating the tremendous socio-economic growth in Bangladesh in the last decade, the Foreign Minister of Lao PDR explicitly showed his strong willingness to strengthen trade and investment ties with Bangladesh.
Both the ministers also discussed the possibility of a high-level visit between the two countries and the foreign minister of Lao PDR readily accepted the invitation.
Besides, Foreign Minister Momen paid a courtesy call on Senior Minister and In-charge of Special Mission (Islamic Affairs) of Cambodia, Oknha Datuk Dr Othsman Hassan in Phnom Penh yesterday, according to another PID handout, received here today.
During the meeting, Momen apprised the minister about Bangladesh's long established tradition of liberal, moderate and tolerant religious way of life that conditioned an environment of non-communal peaceful coexistence by the followers of different faiths.
He also stated that religious harmony is the motto of the Prime Minister of Bangladesh.
He further added that Father of nation Bangabandhu Sheikh Mujibur Rahman was a devoted Muslim and he established many Muslim institutions.
The two ministers also discussed on the several issues including Rohingya repatriation, trade and investment, agriculture, aquaculture and fisheries, youth and cultural exchange programmes.