BNP admits anti-Padma Bridge role as it didn't hail the feat: Hasan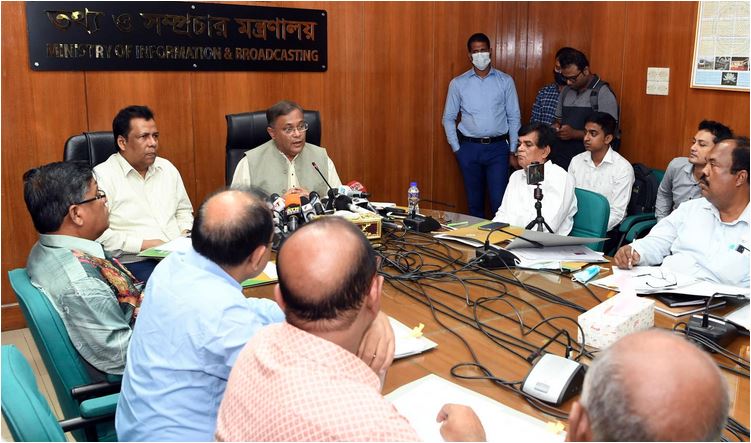 DHAKA, June 26, 2022 (BSS) - Information and Broadcasting Minister Dr Hasan Mahmud today said neighboring India, the US and Pakistan extended greetings to the government as Bangladesh opened the biggest self-financed Padma Bridge but the irony is BNP could not hail the feat.
"Though all Bangladeshis at home and abroad have been happy at the Padma Bridge opening, BNP leaders couldn't be happy and thus they have admitted that they hatched conspiracy against Padma Bridge by failing to extend congratulations," he said.
He said the Padma Bridge has been built for all and those who failed to praise the feat will also use the bridge.
Hasan, also Awami League Joint General Secretary, said these while exchanging views with journalists at the Secretariat here.
He extended thanks to journalists for presenting the auspicious occasion of Padma Bridge opening to people all over the country and the world.
Different international media covered the grand opening ceremony and Padma Bridge was depicted as the symbol of capacity and pride of the nation and "This pride is for all of us."
"Our journalist friends, every television channels and newspapers made series reports on Padma Bridge opening since the beginning of June and they portrayed emotions and enthusiasm of the nation. Thanks to all media persons," he said.
Extending thanks to Prime Minister Sheikh Hasina, Hasan said Padma Bridge has been possible because of dynamic leadership of Bangabandhu's daughter as only she has the courage to dare all conspiracies and obstacles.
Once those who were critical and suspicious over Padma Bridge construction with own funds, today many of them are praising the prime minister and they are happy with the achievement of the nation's capacity.
"The country director of the World Bank that scarped its credit for Padma Bridge construction expressed solidarity with us joining the opening ceremony clad in (Bangalee nation's traditional) sharee," he mentioned.
Asked about the United Nations Special Rapporteur on Freedom of Opinion and Expression Irene Khan's call for scrapping Bangladesh's Digital Security Act (DSA), the minister said Khan, who is one of 80 rapporteurs of the UN, issued statement for stopping trial of war criminals in Bangladesh and remained silent during killings of common people in petrol-bomb attacks of BNP-Jamaat and didn't issue any statement when Israeli forces killed Palestinian children and it is valueless what is stated by her having one-eyed policy.
Noting that the DSA is formulated for ensuring digital security of all and many journalists also filed case under the act and got results, he said it should be kept in mind that misuse of the act cannot take place.
It is essential to ensure that not only journalists but also anyone should not be harassed without any reason and "I cent percent agree with it", the minister said.
"If I notice that any journalist face such incidents, I proactively try to resolve the matter and now case cannot be lodged against any journalist in the way like earlier and permission needed for it," he said.
Hasan said Britain, which is home of Irene Khan, has at least eight acts on digital security.
Data Protection Act 2018, Communications Act 2003, Privacy and Electric Communications Regulation 2003, Network and Information System Regulation 2018, Regulation of Investigatory Powers Act 2000, Commuter Misuse Act 1990, Official Secret Act 1989 and Malicious Communications Act 1988 are in Britain, he mentioned.

Not only that the sections which are being much-talked issues are also in the acts in India, Singapore, Pakistan and even in Australia.
Later, the information and broadcasting minister chaired the 23rd meeting of Journalists Welfare Fund.
This year, there was Taka 9.70 crore in general sector of Journalist Welfare Fund for the welfare of journalists and out of the allocation, Taka 9.33 crore has already been distributed and we will decide about distribution of rest of the money, he said.
Apart from that, around Taka 6 crore has been distributed from Prime Minister's Taka 10 crore fund for special assistance for Covid-19 period and measures have been taken to distribute the lion's share of the rest of Taka 4 crore by the upcoming Eid-ul-Azha.
Information and Broadcasting Secretary Md Makbul Hossain and Journalists Welfare Fund (member) Additional Secretary of Finance Division Golam Mustafa, BFUJ President Omar Faruque, DUJ former President Quddus Afrad, BSS Chattogram Bureau Chief Kalim Sarwar and Dainik Sangbad Managing Director Kashem Humayun were present, among others.